September 3, 2019
I'm Listening!
Mary Southerland
Today's Truth
The right word spoken at the right time is as beautiful as gold apples in a silver bowl (Proverbs 25:11, NCV).
Friend to Friend
I watched in awe as Mrs. McShan worked her magic on the group of third grade students seated before her. Mrs. McShan was the supervising teacher for my student teaching block in college. And she was a rock star in the classroom!
As I watched her teach, I mentally began to list all of the stellar techniques and valuable lessons I had already learned from this master teacher. She never raised her voice. If the classroom got a little noisy, she stopped what she was saying, smiled and stood like a queen overseeing her domain. It was only a matter of seconds until the room grew quiet. That technique was one of my favorites – but one tactic stood out from all the rest. It was so simple – and so powerful.
Mrs. McShan knew how to listen. I mean really listen to each child that came up to her with a question. After teaching each lesson and assigning work based on that lesson, Mrs. McShan allowed the children to come up to her one-at-a-time with any questions they might have about the assignment. And that is when it happened – every. Single. time.
When a child approached Mrs. McShan with a question, she always turned to him or her, gently placed her hand under their chin and tilted their face up until she could lovingly gaze into their eyes. At that moment, I'm sure each child felt as if they were the most important person in their teacher's world – and they were! She listened to every word they had to say and then quietly answered their question.
Every relationship begins with listening. Listening is hard work and something we are not prone to do. I tend to use listening time as time to prepare the eloquent things I am going to say when the person stops talking!
There is a reason God created us with two ears and one mouth. We need to listen twice as much as we speak. Listeningshould always take precedence over speaking.
Proverbs 18:13 (NIV) "To answer before listening – that is folly and shame."
Listening is the first step to act out Scriptural truth Jesus modeled this principle in a powerful way. If anyone had all the answers, if anyone had the right to do all the talking, it was Jesus. 
But if you read the gospels, you'll find His conversations were always saturated with questions. Remember when Jesus was just a boy, and was accidentally left behind by his parents when they went to Jerusalem for Passover? Where was He found? In the temple, with the teachers.
"After three days they found him in the temple courts, sitting among the teachers,
 listening to them and asking them questions" (Luke 2:46).   
Jesus knew how to ask questions! In the gospel of Mark, there are 67 conversations. In those 67 conversations Jesus asks 50 questions. Jesus asked questions and then He listened.
Why?
People listen to people who listen.  
Jesus had way of listening to people that reached into their heart and soul. In other words, Jesus knew how to prime the pump.
When we take the time to ask questions and then really listen to the answers people give, we are priming the pump of their hearts. What is inside will come pouring out! If we are willing to stop talking and really listen, we can bless others and bring them to Christ.
Psalm 10:17 "You hear, O Lord, the desire of the afflicted; You encourage them, and You listen to their cry."
Listening doesn't require that we fix anything or even that we arrive at a solution. Listening sends the message"I'm here for you. I want to understand your pain.I'm willing to share your pain."
Everyone you meet is fighting a battle you know nothing about unless you are willing to listen.
Listening validates people.
We invite them into our lives and give them the most precious gift we possess – time. Loving your neighbor is not something you feel. It is something you do. It's the act of sacrificing your own needs and desires for the sake of someone else.
I go to God because I need Him to listen to me especially when I am in pain.
Psalm 17:6 "I am praying to you because I know you will answer, O God. Bend down and listen as I pray." 
And I can bless others when I stop what I'm doing and listen to them.
Let's Pray

Father, I praise You because I am made in Your image. Please help me live my life on the basis of that truth and not on the lies of the world. Thank You for a mother who loved me in such a beautiful way and modeled the very definition of humility. Help me to honor You like she did.

In Jesus' Name,

Amen.

Now It's Your Turn
I want to encourage you to keep a journal of your journey with God. Carry it with you in your purse, briefcase or diaper bag. Write out your prayers to Him, and then record the answers when they come. From time to time, look back over your journal entries and celebrate what God has done in your life. 
More from the Girlfriends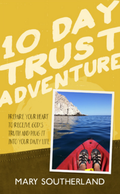 If you really want to learn how to walk with God, check out Mary's Book, 10-Day Trust Adventure. It will teach you how to walk by faith and trust God in every area of your life. And be sure to connect with Mary on Facebook or through email.
Seeking God?
GirlfriendsInGod.com