Tuesday, December 29, 2009 
A Learning Believer
For since, in the wisdom of God, the world through wisdom did not know God, it pleased God through the foolishness of the message preached to save those who believe. 
1 Corinthians 1:21
The first-century church believed in the preaching and teaching of the Bible. And if you want to be close to God, then you have to love the Word of God, because God will speak to His people through His Word.
Show me a person who is studying the Bible, and I will show you a person who can grow spiritually. Jesus said, "Then I said, 'Behold, I have come—in the volume of the book it is written of Me . . . ' " (Hebrews 10:7). Throughout Acts, we see again and again how God honored the teaching and preaching of His Word.
When Paul stood on Mars Hill in Athens, the epicenter of philosophy, he opened up the Word of God. The philosophers of Greece, the great intellects, would gather there. So what did Paul do? Did he put on a play? After all, Greece was the birthplace of what we call drama today. He could have used a three-act play to tell the story of Jesus. But we read in Acts 17 that Paul stood on Mars Hill and said, "Men of Athens, I perceive that in all things you are very religious . . ." (verses 22). And then He preached the gospel to them.
The Bible says it is through the foolishness of preaching that people will believe (see 1 Corinthians 1:21). But we live in a day when people devalue preaching. Sermons are getting shorter, and there is more time given to other things. But I want to hear what the Word of God has to say. Don't you?
The first-century church understood this. They were a learning church. And if you want to be a strong Christian, then you need to be a learning believer—a believer who studies the Word of God.
Copyright © 2009 by Harvest Ministries. All rights reserved. 
Scripture taken from the New King James Version. Copyright © 1982 by Thomas Nelson, Inc. Used by permission. All rights reserved.
For more relevant and biblical teaching from Pastor Greg Laurie, go to www.harvest.org
and
to listen to Greg Laurie's daily broadcast on OnePlace.com, click here.
SPECIAL OFFER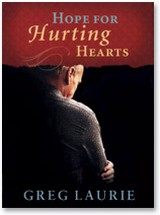 Hope for Hurting Hearts
In times of tragedies and trials, certain things become evident:
This life will have its sorrows
God loves us
Jesus weeps in our times of pain
God can be glorified through human suffering
Hope for Hurting Hearts, Pastor Greg Laurie's new book, examines these truths, revealing God's love and care for us, and shows how we can find hope, even in the midst of the most unbearable pain and sorrow.
You can have your own copy of Hope for Hurting Hearts by Greg Laurie in appreciation for your gift to Harvest Ministries this month.