Tuesday, April 30, 2019
Faith Builders and Faith Breakers
Evil people can't sleep until they've done their evil deed for the day. They can't rest until they've caused someone to stumble. (Proverbs 4:16 NLT)
In a way, we are all building something. We want strong marriages. We want strong families. We want strong spiritual lives. And we want a strong church. So we're in the process of building.
But the moment we start building is also the moment we start battling. The devil opposes what God loves. So we need to press on. God is in the building (and rebuilding) business, but the devil is in the tearing down business.
If you are doing the work of God, then you will face opposition. If you're doing God's work, you will be roundly criticized. And if you're not roundly criticized, you might ask yourself whether you are really doing the work of God. Criticism can be demoralizing, and it can be painful. But I've come to look at criticism as a form of confirmation that I'm on the right track.
When you build, you will have to battle. Proverbs 4:16 says, "Evil people can't sleep until they've done their evil deed for the day. They can't rest until they've caused someone to stumble" (NLT).
Some people are just contrary people. You know who they are immediately. They have a certain facial expression. Nothing pleases them. Nothing meets their standards. They actually like to go and make trouble in the lives of others.
You may be married to one of those people, you may work with some of those people, or you may go to church with a few of those people. Worst of all, you may be one of them.
Some people are doing the work of God while others are standing on the sidelines and critiquing those who are doing the work of God. Are you a faith builder, or are you a faith breaker? It really comes down to one of the two.
Copyright © 2018 by Harvest Ministries. All rights reserved.
For more relevant and biblical teaching from Pastor Greg Laurie, go to www.harvest.org
and
Listen to Greg Laurie's daily broadcast on OnePlace.com.
Watch Greg Laurie's weekly television broadcast on LightSource.com.
SPECIAL OFFER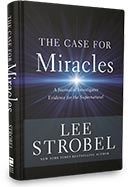 In thanks for your gift, you can receive The Case for Miracles, BOOK
Is God still doing miracles today? Is He intervening? Is He still active in the miracle business? Why is God doing miracles? While doing research for his book, The Case for Miracles, Lee Strobel comes across this definition of a miracle: "A miracle is an event brought about by the power of God that is a temporary exception to the ordinary course of nature for the purpose of showing that God is active in history." 
This book is our thank-you gift to you when you donate to Harvest Ministries this month.