Tuesday, April 12, 2011
Certain of His Death
Christ died for our sins according to the Scriptures.—1 Corinthians 15:3
An advice columnist received this letter about the Resurrection: "Dear Uticus, Our preacher said on Easter that Jesus just swooned on the cross and the disciples nurtured Him back to health. What do you think? Sincerely, Bewildered."
Here was the response: "Dear Bewildered, Beat your preacher with a cat of nine tails with 39 heavy strokes. Nail him to a cross. Hang him in the sun for three hours. Run a spear through his heart. Embalm him. Put him in an airless tomb for 36 hours, and see what happens. Sincerely, Uticus."
Inevitably, unbelievers will offer their own concepts regarding the crucifixion and resurrection of Jesus in an attempt to discredit the Bible and its message. Among the most commonly held theories is "the swoon theory," proposing that Jesus didn't actually die on the cross, but went into a deep coma, or swoon. It further proposes that He was revived in the cool atmosphere of the tomb, was somehow able to get out of the tightly-wrapped strips of cloth, and appeared to His disciples.
Yet the Roman guards were the first to report the death of Jesus. They were experts at execution, and they would be put to death themselves if they allowed a condemned man to escape death. These soldiers were so certain Jesus was dead, they did not bother to break His legs. They thrust a spear into His body and out came blood and water (which occurs when the heart stops beating), giving them the final proof they needed.
We can either believe or hang our doubts on some flimsy theory. But the death and resurrection of Jesus means that one day, we all will stand before God and be held accountable.
Copyright © 2011 by Harvest Ministries. All rights reserved.
Scripture quotations are taken from the Holy Bible, New King James Version, copyright © 1982 by Thomas Nelson, Inc. Bible text from the New King James Version is not to be reproduced in copies or otherwise by any means except as permitted in writing by Thomas Nelson, Inc., Attn: Bible Rights and Permissions, P.O. Box 141000, Nashville, TN 37214-1000.
April 12
Explore:
· Read (or re-read) chapter 2 of the book Road to the Resurrection, and think about the reasons Christ had to die.
Share:
· Do you attend a Bible study or small group? Let them know about the free downloads available through Road to the Resurrection.
Access more devotions and downloads by visiting the Road to the Resurrection at risen.harvest.org.
For more relevant and biblical teaching from Pastor Greg Laurie, go to www.harvest.org
and
Listen to Greg Laurie's daily broadcast on OnePlace.com.
Watch Greg Laurie's weekly television broadcast on LightSource.com.
SPECIAL OFFER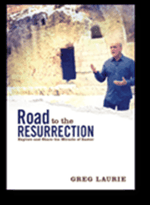 Join Pastor Greg on the Road to the Resurrection!
Two thousand years ago Jesus said to a man named Matthew, "Follow Me." The phrase that He used means, "follow with Me." In other words, walk with Me. We are to be walking with Jesus.
Road to the Resurrection is a resource that will help you walk with Him through the events leading up to His death and resurrection. It is available not only in book form, in appreciation for your gift this month, but it will also be available to read in electronic format.
You can have your own copy of Road to the Resurrection in appreciation for your gift to Harvest Ministries this month.