Friday, April 15, 2011
A New Relationship
Jesus said to her, "Do not cling to Me, for I have not yet ascended to My Father; but go to My brethren and say to them, 'I am ascending to My Father and your Father, and to My God and your God.' " —John 20:17
On the morning of the Resurrection, Jesus didn't allow Mary to touch Him. He was essentially saying, "It's not going to be the way it used to be. You can't hold on to Me in the old way. It's a new covenant."
Then He made a radical statement: "Go to My brethren and say to them, 'I am ascending to My Father and your Father, and to My God and your God' " (John 20:17). For Jesus to call God His Father was one thing. But He said, "I am ascending to My Father and your Father. . . . " In other words, "He is your Father now too."
If you came from a fatherless home, God can be the Father you never had. Jesus opened up a new relationship for us through His death on the cross and His resurrection from the dead. No longer must we go through a high priest to seek atonement for our sins, because Jesus became the final sacrifice for our sins. And He has given us free access to God the Father, to whom we can come in times of need.
Do you know God as your Father? Or does He seem like some distant force? If that is the case, I have good news for you: God is not some mere force or distant power somewhere in the universe. He is personal, He is caring, and He loves you. And that is why He sent His Son to die on the cross in our place.
Copyright © 2011 by Harvest Ministries. All rights reserved.
Scripture quotations are taken from the Holy Bible, New King James Version, copyright © 1982 by Thomas Nelson, Inc. Bible text from the New King James Version is not to be reproduced in copies or otherwise by any means except as permitted in writing by Thomas Nelson, Inc., Attn: Bible Rights and Permissions, P.O. Box 141000, Nashville, TN 37214-1000.
April 15
Explore:
· Today's devotion reminds us that God is a Father to the fatherless. Think of the fatherless people you know. Pray that they would trust in and rely on the Heavenly Father.
Share:
· Today's A New Beginning radio broadcast is airing the message "The Day Christ Died." You can let a friend or family member know if/when A New Beginning can be heard in their area. Click here for a station listing.
Access more devotions and downloads by visiting the Road to the Resurrection at risen.harvest.org.
For more relevant and biblical teaching from Pastor Greg Laurie, go to www.harvest.org
and
Listen to Greg Laurie's daily broadcast on OnePlace.com.
Watch Greg Laurie's weekly television broadcast on LightSource.com.
SPECIAL OFFER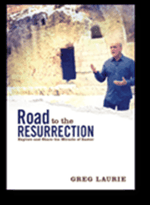 Join Pastor Greg on the Road to the Resurrection!
Two thousand years ago Jesus said to a man named Matthew, "Follow Me." The phrase that He used means, "follow with Me." In other words, walk with Me. We are to be walking with Jesus.
Road to the Resurrection is a resource that will help you walk with Him through the events leading up to His death and resurrection. It is available not only in book form, in appreciation for your gift this month, but it will also be available to read in electronic format.
You can have your own copy of Road to the Resurrection in appreciation for your gift to Harvest Ministries this month.