Thursday, April 16, 2009
The other side of the boat
He said to them, "Cast the net on the right side of the boat, and you will find some."
—John 21:6
The disciples were disappointed and discouraged after the crucifixion and resurrection of Jesus. They were in Galilee, and they had gone out for a night's fishing. They had not caught any fish all night, another disappointment for them.
But then, as John describes, Jesus turned everything around for them:
But when the morning had now come, Jesus stood on the shore; yet the disciples did not know that it was Jesus. Then Jesus said to them, "Children, have you any food?" They answered Him, "No." And He said to them, "Cast the net on the right side of the boat, and you will find some." So they cast, and now they were not able to draw it in because of the multitude of fish. (John 21:4–6)
Already frustrated by their inability to catch anything, some of the disciples were undoubtedly upset when they heard someone say, " 'Cast the net on the right side of the boat.' " They were seasoned fishermen, after all. They did this for a living.
But when they pulled up the nets from the other side of the boat, they had so many fish they couldn't even bring them all in.
Now why did Jesus ask them if they had any food? He wanted them to admit their failure, to acknowledge that they needed His help.
We live in a time when nobody wants to admit wrongdoing. We want to blame it on something or someone else, on our circumstances, on a condition or syndrome. Nobody wants to say, "Yes, I am responsible."
But Jesus wanted His disciples to confess their failure, and then He wanted them to obey Him. Well, of course, then they pulled up full nets.
And we should obey Him, too, even if it seems like the wrong side of the boat.
Copyright © 2009 by Harvest Ministries. All rights reserved.
Scripture taken from the New King James Version. Copyright © 1982 by Thomas Nelson, Inc. Used by permission. All rights reserved. Bible text from the New King James Version is not to be reproduced in copies or otherwise by any means except as permitted in writing by Thomas Nelson, Inc., Attn: Bible Rights and Permissions, P.O. Box 141000, Nashville, TN 37214-1000.
For more relevant and biblical teaching from Pastor Greg Laurie, go to www.harvest.org
and
to listen to Greg Laurie's daily broadcast on OnePlace.com, click here.
SPECIAL OFFER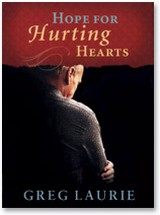 Hope for Hurting Hearts
In times of tragedies and trials, certain things become evident:
This life will have its sorrows
God loves us
Jesus weeps in our times of pain
God can be glorified through human suffering
Hope for Hurting Hearts, Pastor Greg Laurie's new book, examines these truths, revealing God's love and care for us, and shows how we can find hope, even in the midst of the most unbearable pain and sorrow.
You can have your own copy of Hope for Hurting Hearts by Greg Laurie in appreciation for your gift to Harvest Ministries this month.