Wednesday, April 21, 2010
One at a Time
When they heard Paul speak about the resurrection of the dead, some laughed in contempt, but others said, "We want to hear more about this later."
—Acts 17:32
The apostle Paul was probably the greatest communicator the church ever produced. As a brilliant orator and a great student of Scripture, history, and culture, he knew how to make his case. That is clear when you read anything that the Holy Spirit inspired him to write. Yet even Paul's preaching of the gospel was rejected by some.
It serves as a reminder that even if you are the greatest witness, even if you live a truly godly life, even if you are an effective communicator, even if you usually have the answer to every hard question people come up with, not everyone will be convinced.
After all, Jesus Christ was the perfect example. He never slipped up, not even once. He was God in human form. He was absolutely flawless and perfect. Yet in spite of that, Judas Iscariot sold Him out for 30 pieces of silver.
This refutes the timeworn argument of those who say the reason they are not a Christian is because there are so many hypocrites in the church. Jesus was never a hypocrite. But Judas sold Him out anyway.
Even if you are a godly person, you are not going to convince everyone. Even the great apostle Paul did not have everyone believe when he preached.
So what do we do? We need to start with the world around us. We should seek to live godly lives and share the gospel with those we come in contact with. We need to remember that the process will not always be easy. But just as it was in Paul's day, God is in the business of changing lives, one person at a time.
Copyright © 2010 by Harvest Ministries. All rights reserved.
Unless otherwise indicated, Scripture quotations are taken from the Holy Bible, New Living Translation, copyright © 1996. Used by permission of Tyndale House Publishers, Inc., Wheaton, Illinois 60189. All rights reserved.
For more relevant and biblical teaching from Pastor Greg Laurie, go to www.harvest.org
and
to listen to Greg Laurie's daily broadcast on OnePlace.com, click here.
SPECIAL OFFER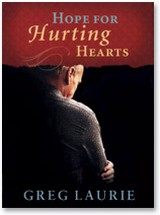 Hope for Hurting Hearts
In times of tragedies and trials, certain things become evident:
This life will have its sorrows
God loves us
Jesus weeps in our times of pain
God can be glorified through human suffering
Hope for Hurting Hearts, Pastor Greg Laurie's new book, examines these truths, revealing God's love and care for us, and shows how we can find hope, even in the midst of the most unbearable pain and sorrow.
You can have your own copy of Hope for Hurting Hearts by Greg Laurie in appreciation for your gift to Harvest Ministries this month.