Monday, April 4, 2011
A Heartfelt Act
Assuredly, I say to you, wherever this gospel is preached in the whole world, what this woman has done will also be told as a memorial to her.—Matthew 26:13
As you read the New Testament, you can't help but notice how little it says about the major events of world history. You might think Scripture would mention Rome and all its mighty conquests. But it doesn't.
Instead, God brings out nuances that are entirely different.
Here in Matthew 26, for example, we find a unique story that God wants us never to forget (see verse 13). It was the incredible sacrifice that a woman made for Jesus. What was it that she did that so impressed the Lord? Was it a miracle or some great teaching? No. It was a heartfelt act.
There in the home of a man named Simon, this woman took a jar of expensive perfume and anointed Jesus with it. Why is this so significant? Her actions are memorable because she seemed to recognize that Jesus needed to be anointed for His burial (see verse 12). So with complete abandon, she gave Him everything she had.
Mark's Gospel tells us her perfume cost more than 300 denarii (see Mark 14:5). In these times, 300 denarii was the equivalent of nearly a year's wages.
But it wasn't the gift that mattered. It was her heart behind the gift. It was her motives that touched Jesus, because He knew she sacrificed nearly everything for Him.
Are you doing all that you can for the Lord? Some people, like many of the dutiful Pharisees, will only give what is required. They will try to get by with the bare minimum. In many ways, we can be like that too.
Today, won't you commit to serving the Lord above and beyond what is required—like this woman did?
Copyright © 2011 by Harvest Ministries. All rights reserved.
Scripture taken from the New King James Version. Copyright © 1982 by Thomas Nelson, Inc. Used by permission. All rights reserved. Bible text from the New King James Version is not to be reproduced in copies or otherwise by any means except as permitted in writing by Thomas Nelson, Inc., Attn: Bible Rights and Permissions, P.O. Box 141000, Nashville, TN 37214-1000.
Explore:
Consider what sacrifice you can make for the Lord, like the woman in today's devotion. Then purpose in your heart to carry out that sacrifice.
Download and listen to the song Justified, and remember that it is by Christ's sacrifice that we are saved.
Share:
Let a friend or family member know that they can travel along the Road to the Resurrection by sharing this link with them: risen.harvest.org
Attention church leaders! You are welcome to share the resources from this website with your church, Bible study, or small group. You can even announce it in your church bulletin.
Access more devotions and downloads by visiting the Road to the Resurrection at risen.harvest.org.
For more relevant and biblical teaching from Pastor Greg Laurie, go to www.harvest.org
and
Listen to Greg Laurie's daily broadcast on OnePlace.com.
Watch Greg Laurie's weekly television broadcast on LightSource.com.
SPECIAL OFFER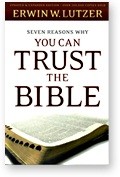 Even believers sometimes doubt...
Have you ever doubted the Bible? Have you ever had questions about how the Bible came into being? Have you wondered about the historical reliability of the Bible? Listen. Don't feel bad about that. Let us help you. Here is a great resource that will bolster your faith and help you to defend your beliefs. This book is called Seven Reasons Why You Can Trust the Bible. It is written by Greg's friend, Dr. Erwin Lutzer, who is the pastor of the famed Moody Memorial Church in Chicago, Illinois.
You can have your own copy of Seven Reasons Why You Can Trust the Bible in appreciation for your gift to Harvest Ministries this month.