Tuesday, April 7, 2009
Wrong Ideas
Take heed to yourself and to the doctrine. Continue in them, for in doing this you will save both yourself and those who hear you.
—1 Timothy 4:16
In America today, we have something that could be described as a new spirituality. It's a revival of sorts—not in the biblical sense of people turning to God, but a revival of all kinds of ancient and weird spiritual concepts and beliefs.
People are spiritually hungry. They are searching for truth. And the problem is, some of this strange theology is finding its way into the church.
We must be very careful to keep our guard up. Don't forget that when the devil misled Eve in the Garden of Eden, he did it with partial truth. He did not question God's Word altogether. Rather, he questioned if Eve properly understood it.
We must be careful of the deviant teachings that are out there today. So often when a new teaching comes along, we will get excited: a new revelation!
I hope this won't disappoint you, but there aren't any new revelations. Everything you need to know about God is already written in His Book. As it has been said, if it's true, it isn't new. And if it's new, it isn't true.
So don't go looking for new revelations. Spend your time instead in learning God's Word, and He will bring fresh understanding of it.
Years ago, the great thinker C. S. Lewis warned us, "If you do not listen to theology, that will not mean that you have no ideas about God. It will mean that you have a lot of wrong ones." I think this is especially important today.
We need to know what Jesus said. We need to know what the truth is. We need to pay attention to doctrine.
Copyright © 2009 by Harvest Ministries. All rights reserved.
Scripture taken from the New King James Version. Copyright © 1982 by Thomas Nelson, Inc. Used by permission. All rights reserved. Bible text from the New King James Version is not to be reproduced in copies or otherwise by any means except as permitted in writing by Thomas Nelson, Inc., Attn: Bible Rights and Permissions, P.O. Box 141000, Nashville, TN 37214-1000.
For more relevant and biblical teaching from Pastor Greg Laurie, go to www.harvest.org
and
to listen to Greg Laurie's daily broadcast on OnePlace.com, click here.
SPECIAL OFFER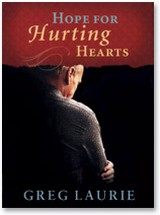 Hope for Hurting Hearts
In times of tragedies and trials, certain things become evident:
This life will have its sorrows
God loves us
Jesus weeps in our times of pain
God can be glorified through human suffering
Hope for Hurting Hearts, Pastor Greg Laurie's new book, examines these truths, revealing God's love and care for us, and shows how we can find hope, even in the midst of the most unbearable pain and sorrow.
You can have your own copy of Hope for Hurting Hearts by Greg Laurie in appreciation for your gift to Harvest Ministries this month.