An Essential for Evangelism
Instead, you must worship Christ as Lord of your life. And if someone asks about your Christian hope, always be ready to explain it. (1 Peter 3:15)
When I think of Billy Graham's preaching over the years, one of the things that stands out is the fact that he always quoted the Bible. How many times have we heard Billy Graham say, "And the Bible says . . . and the Bible says . . ."? He recognizes the authority of Scripture.
Peter, too, recognized the authority of Scripture when he spoke to the crowd at Pentecost (see Acts 2). He quoted Joel 2:28–32, apparently from memory. Then he quoted Psalm 16 and Psalm 110. Obviously Peter had memorized great portions of Scripture.
In the same way, we need to use Scripture as we share the gospel. As an artist knows how to use her pens and brushes (and nowadays, her software program), as a chef knows how to use his knives, and as a soldier knows how to use his weapons, we need to know how to use the Word of God.
Peter wrote, "If someone asks about your Christian hope, always be ready to explain it" (1 Peter 3:15). The phrase, "always be ready" is from the Greek word apologia, from which we get our English word "apologetic." This does not mean apologizing for our faith; rather, apologia carries the meaning of a legal defense, as in a court of law. It is like making your case before a judge or jury. That is what we are doing when we present the facts of the gospel. We are making our case.
In Isaiah 55:11, God says of His Word: "I send it out, and it always produces fruit. It will accomplish all I want it to, and it will prosper everywhere I send it."
When it comes to sharing our faith, nothing is more effective than quoting the Word of God.
Summary sentence: God's Word is essential in sharing the gospel message!
Tags: Evangelism, authority of Scripture, faith
Copyright © 2012 by Harvest Ministries. All rights reserved.
Scripture quotations are taken from the Holy Bible, New Living Translation, copyright 1996, 2004. Used by permission of Tyndale House Publishers, Inc., Wheaton, Illinois 60189. All rights reserved.
For more relevant and biblical teaching from Pastor Greg Laurie, go to www.harvest.org
and
Listen to Greg Laurie's daily broadcast on OnePlace.com.
Watch Greg Laurie's weekly television broadcast on LightSource.com.
SPECIAL OFFER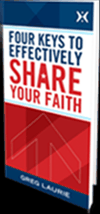 IIn appreciation for your gift this month to Harvest Outreach Ministries, we want to send you Four Keys to Effectively Share Your Faith.
God's primary way of reaching people is through people. Yet studies have shown that only one out of every 20 Christians has ever shared the gospel. You might be saying, "I want to share the gospel—I just don't feel like I know enough." Through this newly revised and updated booklet, Four Keys to Effectively Share Your Faith, you can learn the simple principles that will equip you to use the open doors around you.
Your gift brings relevant teaching from God's Word through our daily broadcast A New Beginning, our crusades, our online ministry channel, and this year across the country through Harvest America.