Tuesday, August 12, 2008
Please continue to pray for Pastor Greg and the rest of the Laurie family in this time of mourning after his eldest son, Christopher, was taken home to heaven on July 24.
During this time, we felt it appropriate to share with you excerpts from Pastor Greg's book, Why, God?, over the next few weeks.
Why God Allows Christians to Suffer
Never forget that God is in control of all the circumstances that surround a believer's life. God is in control of your life, and involved in all the details.
Your suffering has not escaped His notice. Your situation has not somehow been buried in His inbox. He is intimately aware of everything going on in your world, and no detail is too small to escape His attention. The word "oops" is not in God's vocabulary.
And as we can so clearly see from the book of Job, the devil can do nothing in the life of the believer without the express permission of God.
Okay, you say, but if He's in control, why does He allow these hurtful things to happen to me and to people I love?
1. Suffering makes us strong
The apostle James tells us:
"When all kinds of trials and temptations crowd into your lives, my brothers, don't treat them as intruders, but as friends. Realize that they come to test your faith and to produce in you the quality of endurance. . . . you will find you have become men of mature character, men of integrity, with no weak spots." (James 1:2-4 phillips)
God allows hardship in our life so that our beliefs will become more real to us, and less theory. We can start living out our faith-life in the real world.
I'm reminded of all the people you see driving SUVs. Most of these fancy rigs have 4x4 capabilities. Some guys take it a notch above that, putting lifts in their rigs, buying those big gnarly tires, and mounting huge lights on top.
And what do they do with these powerful vehicles? They brag to their buddies, and say, "Yeah, just look at this thing. Look at what it can do. I could drive this baby up the side of a building."
"Well," someone might ask, "do you want to go out in the dirt?"
"Are you kidding? Do you know how much I paid for this thing? No way! In fact, I was just on the way to the car wash."
So they never want to actually use that vehicle for its intended purpose—what it was actually designed to do.
We can be that way with our beliefs. I can imagine God saying, "You know, you have a lot of really great beliefs. You talk about them all the time. I think it's time you started putting some of them into practice. You talk about how you trust Me. You talk about how you believe I can provide for your every need. Let Me put you in a situation where you have no other resources and really have to trust Me for that provision."
You see, God can allow these hardships and trials and shortfalls in our lives so that we will exercise our faith muscles, and step out on trust alone. We need to transfer our faith from the realm of theory to reality.
2. Suffering can bring God glory
Any fool can be happy and peaceful when the sun shines down from a blue and cloudless sky. But when those qualities shine out from the midst of a dark and destructive storm, that's another matter entirely.
That, in essence, was the challenge Satan laid before God. "Job follows You because You have blessed him in every way, but if those things were taken away, it would be a different story. He would curse You."
In order to show the falsehood of Satan's argument—and to strengthen Job's faith at the same time—God allowed these multiple tragedies to crash into Job's life.
The result? Job not only refused to curse God, he actually blessed Him. What a rebuke to the enemy! What a witness to the world.
It is a powerful testimony when a believer can praise God while suffering. Remember the story of Paul and Silas, arrested for preaching the gospel in the city of Philippi? The Bible tells us that the jailer had them stripped and flogged. Then they were put in a dungeon, where their feet were fastened in stocks.
How did they respond? Here's what the Bible says:
"But at midnight Paul and Silas were praying and singing hymns to God, and the prisoners were listening to them." (Acts 16:25 nkjv)
That word "listened" could be translated as listened with great interest. Why? Because they had never heard anybody sing praises to God in such a place. And that's about the time the Lord sent an earthquake:
"At once the prison doors flew open, and everybody's chains came loose. The jailer woke up, and when he saw the prison doors open, he drew his sword and was about to kill himself because he thought the prisoners had escaped. But Paul shouted, "Don't harm yourself! We are all here!" (Acts 16:26-28 niv)
The jailer responded by saying, "Sirs, what must I do to be saved?" In effect, he was saying, "I've been watching you guys. I've seen how you have taken such terrible punishment without cursing. I've seen how you can worship in the worst circumstances, and how you could have escaped but didn't. All I can say is, whatever you have, I want it."
Your circumstances may not be as dire as those of Paul and Silas. But people are watching you. If you're in the midst of a hardship or a difficulty, they're watching to see if you will really practice what you preach, and live out what you proclaim. The way you handle suffering in your life can bring great glory to God.
Paul the apostle also suffered from an unnamed "thorn in the flesh." No one really knows what it was, but he spoke of it in his letter to the Corinthian church, and said that he had asked the Lord on three separate occasions to remove it.
But God said no. Even though God had done miracles through Paul, bringing healing to others, He chose not to bring that healing in the life of His loyal servant in this particular situation.
When Paul asked why, God gave him this answer: "My gracious favor is all you need. My power works best in your weakness" (2 Corinthians 12:9 nlt).
Was Paul discouraged by this answer? It sure doesn't sound like it! He goes on to say, "So now I am glad to boast about my weaknesses, so that the power of Christ may work through me. Since I know it is all for Christ's good, I am quite content with my weaknesses and with insults, hardships, persecutions, and calamities. For when I am weak, then I am strong" (vv. 9-10).
So God can be glorified through your weakness. His light and power can shine through the chips, cracks, and cracks in your life, drawing others to Himself.
Today's devotion is excerpted from the second chapter of Greg Laurie's book, Why, God? (Dana Point, Calif.: Kerygma Publishing, 2007). To order a copy of Why, God? while supplies last, click here to visit the Harvest Store.
For more relevant and biblical teaching from Pastor Greg Laurie, go to www.harvest.org.
SPECIAL OFFER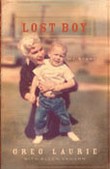 Lost Boy
The Bible says, "If any man be in Christ, he is an altogether different kind of person. Old things have passed away. Everything becomes fresh and new." That is the truth I want you and everyone who reads this book to come away with. And it is a message not just of hope, but also of Christ's redemptive power.
-Greg Laurie
You can have your own copy of the book Lost Boy in appreciation for your gift sent to Harvest Ministries this month.