Wednesday, August 12, 2009
Getting it Right
Take heed to yourself and to the doctrine. Continue in them, for in doing this you will save both yourself and those who hear you.
—1 Timothy 4:16
Every now and then someone comes along and claims that believers can have a great new experience with the Holy Spirit, such as laughing uncontrollably or making animal noises. And my response is, "Excuse me, where is that in the Bible?" Because if I can't find it in the Bible, then frankly I am not interested.
If it is not in God's Word, then it is not of God. We should always be able to have a scriptural basis for what we are doing. By that I don't mean spiritualizing a text and taking it out of context. I mean truly having a biblical basis where we can say, "Here it is happening in the Book of Acts, taught in the Epistles," and so forth.
When someone claims to be a prophet of God with a new revelation for the church that has never been revealed before, just remember that if it is new, then it is not true. And if it is true, then it is not new. I am not looking for a new revelation; I have more than enough in the Bible.
Yet there are people today who are looking for "new words from the Lord" when they never have even read God's written word, the Bible, from cover to cover. There is plenty in Scripture to occupy ourselves with. So don't look for new revelations. Instead, look at the Scripture and always have a scriptural basis for everything that you say and do.
Just as an artist knows how to use her pens and brushes (and nowadays her computer software), just as a chef knows how to use his knives, and just as a soldier knows how to use his weapons, we need to know how to use the Word of God.
Copyright © 2009 by Harvest Ministries. All rights reserved.
Scripture taken from the New King James Version. Copyright © 1982 by Thomas Nelson, Inc. Used by permission. All rights reserved.
For more relevant and biblical teaching from Pastor Greg Laurie, go to www.harvest.org
and
to listen to Greg Laurie's daily broadcast on OnePlace.com, click here.
SPECIAL OFFER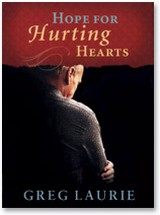 Hope for Hurting Hearts
In times of tragedies and trials, certain things become evident:
This life will have its sorrows
God loves us
Jesus weeps in our times of pain
God can be glorified through human suffering
Hope for Hurting Hearts, Pastor Greg Laurie's new book, examines these truths, revealing God's love and care for us, and shows how we can find hope, even in the midst of the most unbearable pain and sorrow.
You can have your own copy of Hope for Hurting Hearts by Greg Laurie in appreciation for your gift to Harvest Ministries this month.