Friday, August 15, 2008
Please continue to pray for Pastor Greg and the rest of the Laurie family in this time of mourning after his eldest son, Christopher, was taken home to heaven on July 24.
During this time, we felt it appropriate to share with you excerpts from Pastor Greg's book, Why, God?, over the next few weeks.
The Rest of the Story
In the final chapter of the book of Job, God restored to His righteous servant everything and doubled it. He had passed the test, leaving an unforgettable example for us in the pages of Scripture. Though he could never replace the children he had lost, God gave him more, allowing him to enjoy his children and his grandchildren.
Could it be that the hardships you find yourself facing today are preparing you something just over the horizon—a ministry and a life beyond your imagination right now? I'll tell you this: God doesn't waste anything. Not one sorrow. Not one sigh. Not one tear.
Dr. Warren Wiersbe quotes a professor of history who said, "If Columbus had turned back, no one would have blamed him. But no one would have remembered him either."
Wiersbe concluded, "If you want to be memorable sometimes you have to be miserable."
You might say, "Honestly, I don't see how I could handle one-tenth of the things Job faced. In fact, I can't handle suffering at all."
Don't worry. God knows what you can manage. He knows what you can take. And He will parcel it out accordingly. You just need to trust Him.
God will give you what you need when you need it. Not before, never after, but just when it is needed. Until then, we must simply trust Him.
Corrie ten Boom, the well-known author of The Hiding Place, was placed in a Nazi concentration camp, along with her sister and her father. They were committed Christians and their "crime" had been hiding Jewish people in their home, trying to protect them from Nazi genocide against all Jews in Hitler's Reich.
Both Corrie's father and sister died, and Corrie herself went through deep suffering during that time. But she survived, and spent the rest of her life traveling around the world as a self-described "tramp for the Lord," declaring that there was no pit so deep that God was not deeper still.
When Corrie was a little girl, she was reading a story about martyrs for the Christian faith, and was trying to process what these saints of God had endured for the sake of Christ.
She said to her father, "Daddy, I am afraid that I will never be strong enough to be a martyr for Jesus Christ."
"Tell me," said that wise father, "when you take a train trip to Amsterdam, when do I give you the money for the ticket? Three weeks before?"
"No, Daddy," she replied. "You give me the money for the ticket just before we get on the train."
"That's right," he replied. "And so it is with God's strength. Our Father in heaven knows when you will need the strength to be a martyr for Jesus Christ. He will supply all you need just in time."
As it turned out, God never required Corrie to die as a martyr. Even so, Corrie suffered much in her life, and God always gave her the strength she needed . . . just as her father had told her.
Here's something that hit me pretty hard as I studied Job's life. We need to hold everything God has given us loosely. Everything you have has come to you as a gift from God.
Job found that out, and had to declare before God and man, "The Lord gives and the Lord takes away. Blessed be the name of the Lord."
Maybe you drive your new SUV through the car wash and admire the way it sparkles and gleams after you wipe it down. Don't forget, that was given to you from God.
Or you pull into the driveway of your home. Don't take it for granted! God has graced you and privileged you to live there.
You get up in the morning and feel like a million bucks, or finish a game of tennis and grab a nice long shower . . . don't forget. Your health and strength are a gift from God.
You say, "I'm very careful to eat only organic stuff and I have a regular exercise routine." Good for you. But remember, God gave you your health.
God has given you your life. God has given you your wife. He has given you your husband. He had blessed you with children. He has given you everything.
Hold it loosely. He may leave it in your hands for years; then again, he might take it tomorrow. That's up to Him to decide. But it all belongs to Him, and we praise Him every day for what He has given us.
The truth is, everybody suffers. Calamity comes into every life—the righteous and the unrighteous, the godly and the ungodly. The good news is that the Lord can use suffering in the lives of His sons and daughters . . . to strengthen us spiritually . . . to make us more Christ-like . . . to use us to minister to and comfort others . . . and to prepare us for future tasks that are completely off our personal charts.
What comfort we have in Christ! What an indescribable hope! He is worthy of our complete trust and confidence, no matter what we might be enduring at the moment.
Sometimes, God can use sickness, tragedy, hardship, or difficulty to get our attention. The psalmist said, "Before I was afflicted I went astray, but now I obey your word . . . .It was good for me to be afflicted so that I might learn your decrees" (Psalm 119:67 nkjv).
Are you in a "hot place" right now? Do you find yourself in the fires of difficulty or crisis? You got bad news from the doctor. You were let go from your job. Your "significant other" dumped you. Maybe something else has happened that has rocked your world, and you don't know what to do.
You need to say, "God, help."
He has thousands of years of experience helping, comforting, and saving those who reach up to Him in faith.
Today's devotion is excerpted from the second chapter of Greg Laurie's book, Why, God? (Dana Point, Calif.: Kerygma Publishing, 2007). To order a copy of Why, God? while supplies last, click here to visit the Harvest Store.
For more relevant and biblical teaching from Pastor Greg Laurie, go to www.harvest.org.
SPECIAL OFFER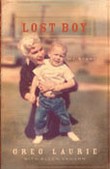 Lost Boy
The Bible says, "If any man be in Christ, he is an altogether different kind of person. Old things have passed away. Everything becomes fresh and new." That is the truth I want you and everyone who reads this book to come away with. And it is a message not just of hope, but also of Christ's redemptive power.
-Greg Laurie
You can have your own copy of the book Lost Boy in appreciation for your gift sent to Harvest Ministries this month.