Tuesday, August 19, 2008
Walking with Jesus
After that, He appeared in another form to two of them as they walked and went into the country. (Mark 16:12)
I think it's interesting to note those to whom Jesus chose to appear after His resurrection. We don't read about Him appearing to Caiaphas or Caesar.
Now if it had been me, the first person I would have appeared to would have been Pilate: "Yo, Pilate! Remember me? Can't keep a good man down, can you?" Or I would have appeared to Caiaphas, the high priest who, for the most part, orchestrated the crucifixion.
But it is interesting how Jesus appeared to two disciples on the road to Emmaus and joined them on their journey. We don't know who they were, and they are not mentioned again in the Bible.
The Bible tells us that Jesus appeared in another form to them as they went into the country. In other words, He was going incognito. They didn't know that it was Jesus.
The last sight they had of the Lord was His beaten and bloodied body. Surely they wanted to get that image out of their minds.
There they were, walking along, and Jesus was walking with them. It's a reminder to us that at all times, even when we don't realize it, Jesus is walking with us.
Isaiah 43:2 promises, "When you pass through the waters, I will be with you; and through the rivers, they shall not overflow you. When you walk through the fire, you shall not be burned, nor shall the flame scorch you."
Maybe when you are in church, you feel close to God. But wherever you go, you can know that Jesus is with you there too. When you are going through hard times, even when you cannot feel Him, Jesus is there.
Copyright © 2008 by Harvest Ministries. All rights reserved. Scripture quotations are taken from the Holy Bible, New King James Version, copyright © 1982 by Thomas Nelson, Inc.
For more relevant and biblical teaching from Pastor Greg Laurie, go to www.harvest.org.
SPECIAL OFFER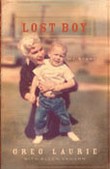 Lost Boy
The Bible says, "If any man be in Christ, he is an altogether different kind of person. Old things have passed away. Everything becomes fresh and new." That is the truth I want you and everyone who reads this book to come away with. And it is a message not just of hope, but also of Christ's redemptive power.
-Greg Laurie
You can have your own copy of the book Lost Boy in appreciation for your gift sent to Harvest Ministries this month.