Greg Laurie Daily Devotion - Aug. 27, 2008

Wednesday, August 27, 2008
Thankful in Everything
In everything give thanks; for this is the will of God in Christ Jesus for you. (1 Thessalonians 5:18)
In her wonderful book, The Hiding Place, Corrie ten Boom relates an amazing story about the importance of being thankful. Corrie and her sister Betsy were held in a concentration camp known as Ravensbruk, where they lived in barracks that were plagued with lice. Lice were everywhere—in their hair and on their bodies.
One day, Betsy said to her, "Corrie, we need to give thanks to God for the lice."
Corrie said, "Betsy, you have gone too far this time. I am not going to thank God for lice."
Betsy said, "Oh, but Corrie, the Bible tells us, 'In everything give thanks.' "
Still, Corrie did not want to thank God for the lice. As it turns out, Corrie and Betsy were trying to reach the other women in their barracks with the message of the gospel, and they had been holding Bible studies. Corrie found out later that because of the lice, the guards would not go into those barracks, and therefore, they were able to have their Bible studies. As a result, they led many of the women to the Lord. So it turns out that God can even use lice.
If the Bible said, "In some things give thanks," I would say, "No problem there!" But it says, "In everything give thanks." That is not an easy thing to do.
This verse doesn't say we should give thanks for everything as much it says in everything. There are some things that happen, and I'm not glad they happened. But I am glad that, in spite of the tragedies, God is still on the throne, and He is still in control of all circumstances that surround my life.
Copyright © 2008 by Harvest Ministries. All rights reserved. Scripture quotations are taken from the Holy Bible, New King James Version, copyright © 1982 by Thomas Nelson, Inc.
For more relevant and biblical teaching from Pastor Greg Laurie, go to www.harvest.org.
SPECIAL OFFER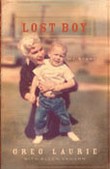 Lost Boy
The Bible says, "If any man be in Christ, he is an altogether different kind of person. Old things have passed away. Everything becomes fresh and new." That is the truth I want you and everyone who reads this book to come away with. And it is a message not just of hope, but also of Christ's redemptive power.
-Greg Laurie
You can have your own copy of the book Lost Boy in appreciation for your gift sent to Harvest Ministries this month.