Tuesday, February 10, 2009
Make a Choice
Do you not know that friendship with the world is enmity with God? Whoever therefore wants to be a friend of the world makes himself an enemy of God.
—James 4:4
Lot was the nephew of the only man identified in the Bible as the intimate friend of God, Abraham.
Abraham essentially wanted to walk with God, but Lot did not. Abraham was a man who possessed a deep friendship with God. Lot was interested in a friendship with God, but he was also very interested in a friendship with the world.
The apostle James asked the question, "Do you not know that friendship with the world is enmity with God? Whoever therefore wants to be a friend of the world makes himself an enemy of God" (James 4:4).
James is saying that if you are going to follow Jesus Christ, you can't be a friend of this world. And "the world" means this world system that is hostile to the truth of God.
In case you haven't noticed it, this culture we are living in does not promote Christian values. In fact, if anything, this culture promotes the opposite.
It seems at every turn there is hostility toward those of us who believe there is right and wrong, morality and immorality. In a day when anything goes, people don't like those who hold to a set of standards and are unshakeable in them.
So if I want to be a friend to this world, if I want to go out there and do whatever my little heart desires, and engage in any pleasure that interests me, I cannot be the friend of God.
It's like having a foot on the dock and a foot in a rowboat that is beginning to drift away. You are going to have to make a choice. You can't live in two worlds.
You need to walk with God, as Abraham did.
Copyright © 2009 by Harvest Ministries. All rights reserved.
Scripture taken from the New King James Version. Copyright © 1982 by Thomas Nelson, Inc. Used by permission. All rights reserved. Bible text from the New King James Version is not to be reproduced in copies or otherwise by any means except as permitted in writing by Thomas Nelson, Inc., Attn: Bible Rights and Permissions, P.O. Box 141000, Nashville, TN 37214-1000.
For more relevant and biblical teaching from Pastor Greg Laurie, go to www.harvest.org.
SPECIAL OFFER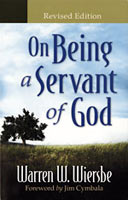 On Being a Servant of God
"I don't know of a better resource for you to add to your bookshelf than On Being a Servant of God. Written by one of the great communicators in the church, Warren Wiersbe, it is a book that I believe will enrich your life."
-Greg Laurie
On Being a Servant of God invites you to listen in on the thirty short "armchair chats" to gain practical and encouraging insights that will increase your desire to serve the Lord for His glory.
You can have your own copy of On Being a Servant of God in appreciation for your gift to Harvest Ministries this month.