Wednesday, February 18, 2009
The Right Reason
Not everyone who says to Me, "Lord, Lord," shall enter the kingdom of heaven, but he who does the will of My Father in heaven.
—Matthew 7:21
During His earthly ministry, Jesus faced the problem of people who would follow Him for the wrong reasons. He was constantly challenging them to count the cost and to make sure that their motives were right.
He wants us all to follow Him, but He wants us to do it for the right reasons.
To truly come to know God, I must come on His terms and not my own. I must do it His way and not mine.
It is not for me to pick and choose the commandments in the Bible that personally appeal to me or the attributes that I personally find interesting or appealing. It is for me to live life God's way or not to follow Him at all.
It is clear that there are many today who do not follow Him for the right reasons. Jesus taught that there would be those on judgment day who thought they were believers but really were not.
In Matthew 7:21, Jesus makes this radical statement, "Not everyone who says to Me, 'Lord, Lord,' shall enter the kingdom of heaven, but he who does the will of My Father in heaven."
If you are primarily interested in what is cool or what is hip or what is socially acceptable, I need to tell you right now that following Jesus Christ probably won't work into your plans.
But if you are interested in what is right and what is the best way to spend your life, and if you are interested in the hope of heaven and a life with meaning, then there are no other options to choose from.
Copyright © 2009 by Harvest Ministries. All rights reserved.
Scripture taken from the New King James Version. Copyright © 1982 by Thomas Nelson, Inc. Used by permission. All rights reserved. Bible text from the New King James Version is not to be reproduced in copies or otherwise by any means except as permitted in writing by Thomas Nelson, Inc., Attn: Bible Rights and Permissions, P.O. Box 141000, Nashville, TN 37214-1000.
For more relevant and biblical teaching from Pastor Greg Laurie, go to www.harvest.org.
SPECIAL OFFER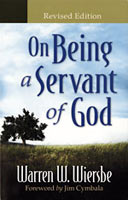 On Being a Servant of God
"I don't know of a better resource for you to add to your bookshelf than On Being a Servant of God. Written by one of the great communicators in the church, Warren Wiersbe, it is a book that I believe will enrich your life."
-Greg Laurie
On Being a Servant of God invites you to listen in on the thirty short "armchair chats" to gain practical and encouraging insights that will increase your desire to serve the Lord for His glory.
You can have your own copy of On Being a Servant of God in appreciation for your gift to Harvest Ministries this month.