More Bread, Please
"Do not labor for the food which perishes, but for the food which endures to everlasting life, which the Son of Man will give you." —John 6:27
After Jesus' miracle of feeding the 5,000, He went across the Sea of Galilee. A crowd followed Him to the other side.
And when they found Him on the other side of the sea, they said to Him, "Rabbi, when did You come here?" Jesus answered them and said, "Most assuredly, I say to you, you seek Me not because you saw the signs, but because you ate of the loaves and were filled. Do not labor for the food which perishes, but for the food which endures to everlasting life, which the Son of Man will give you, because God the Father has set His seal on Him." (John 6:25–27)
Jesus could see right through them. These people had no real interest in the supernatural. Nor did they really have a desire even to know Jesus Himself. They just wanted their food. They wanted Christianity without Christ.
People want forgiveness, but they don't want to repent. They want to go to heaven, they want to wear the crown, but they don't want to bear the cross.
But it's a package deal. You don't get to pick and choose the things that you like. You may think, "I want forgiveness. I want to know I'm going to heaven. But I still want to sin." No. It's not going to work.
You have to decide—do you just want bread, or do you want the Bread of Life?
Copyright © 2009 by Harvest Ministries. All rights reserved.
Scripture taken from the New King James Version. Copyright © 1982 by Thomas Nelson, Inc. Used by permission. All rights reserved. Bible text from the New King James Version is not to be reproduced in copies or otherwise by any means except as permitted in writing by Thomas Nelson, Inc., Attn: Bible Rights and Permissions, P.O. Box 141000, Nashville, TN 37214-1000.
For more relevant and biblical teaching from Pastor Greg Laurie, go to www.harvest.org
and
Listen to Greg Laurie's daily broadcast on OnePlace.com.
Watch Greg Laurie's weekly television broadcast on LightSource.com.
SPECIAL OFFER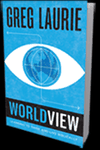 In appreciation for your gift this month to Harvest Outreach Ministries, we want to send you Worldview: Learning to Think and Live Biblically.
"We can't allow our emotions to dictate our worldview; rather, we must base our worldview on absolute truth. And the only place where you can find that absolute truth is in the pages of Scripture." —Greg
You can receive your own copy of Worldview: Learning to Think and Live Biblically in appreciation for your gift today to Harvest Ministries. This resource outlines the principles for you to build or rebuild a proper biblical foundation for your life.