Tuesday, February 23, 2010
The End Game
The thief does not come except to steal, and to kill, and to destroy. I have come that they may have life, and that they may have it more abundantly.
—John 10:10
Have you ever wondered why things are as spiritually and morally dark as they are? It is because there is a mastermind behind it all that goes deeper than one's politics or worldview. I am talking about a spirit power that infiltrates culture, that infiltrates government, and that infiltrates lives. It is the prince of the power of the air—that is who Satan is. And he leads a lot of people down his path through the basest of temptations.
He has gotten a lot of mileage out of sex, drugs, and rock and roll. I am amazed how generation after generation goes after this one hook, line, and sinker. Young kids today are out there doing the same stupid things that we did when we were kids. The sad thing is that when they get older, their kids probably will follow in their footsteps, as though they are the only generation that has ever discovered these things.
I gave my life to Jesus Christ at the age of 17 and went a different direction. But I know of friends that I went to high school with who have stayed in the same lifestyle they had back then. And when I have reconnected with some of them, it is obvious to me how the world has chewed them up and spit them out. Some are into their third and fourth marriages. Some have substance abuse problems. I have felt like saying, "Well, was it worth it? Was it a good ride?"
The end game of the devil is to steal, kill, and destroy. He may come with an enticing temptation. He may come with something dazzling that might even have an element of enjoyment in it at the beginning. But his end game, his ultimate goal, is to steal, kill, and destroy.
Copyright © 2010 by Harvest Ministries. All rights reserved.
Scripture taken from the New King James Version. Copyright © 1982 by Thomas Nelson, Inc. Used by permission. All rights reserved.
For more relevant and biblical teaching from Pastor Greg Laurie, go to www.harvest.org
and
to listen to Greg Laurie's daily broadcast on OnePlace.com, click here.
SPECIAL OFFER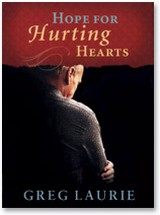 Hope for Hurting Hearts
In times of tragedies and trials, certain things become evident:
This life will have its sorrows
God loves us
Jesus weeps in our times of pain
God can be glorified through human suffering
Hope for Hurting Hearts, Pastor Greg Laurie's new book, examines these truths, revealing God's love and care for us, and shows how we can find hope, even in the midst of the most unbearable pain and sorrow.
You can have your own copy of Hope for Hurting Hearts by Greg Laurie in appreciation for your gift to Harvest Ministries this month.