Wednesday, February 4, 2009
This week's devotions are taken from a recent series of posts on Pastor Greg's blog. To see his latest blog entry, click here.
"What Did You See?"
We have been looking at Paul's final words to the leaders of the church in Ephesus.
Here, the great apostle is summing up the essence of the Christian life. He is laying out what we as believers ought to be doing, so we might have a "well-lived life."
Paul says, "But none of these things move me; nor do I count my life dear to myself, so that I may finish my race with joy, and the ministry which I received from the Lord Jesus, to testify to the gospel of the grace of God" (Acts 20:24).
We have seen that we as believers are like runners in a race and servants. Now, Paul uses a different picture where he compared himself to a witness, "testifying of the gospel of the grace of God."
"Can you describe it for us?"
When there is an accident, police seek to locate witnesses to the incident. They ask, "What did you see and hear? Can you describe it for us?"
A witness cannot make something up or make it more or less dramatic. They are not there to entertain the audience or do anything other than to just testify to what they saw. And that is what we are to d give testimony to what we know is true.
As John said, "That which we have seen and heard we declare to you. . . ." (1 John 1:3). As you walk in fellowship with God, He will be working in your life. He will be showing you things from His Word, and life in general.
You will have seen and heard a lot, so when the opportunity comes to speak, you can and should. Your witness will just "overflow" from you, like water from a full sponge.
Let's get serious!
But there is a seriousness to this, too. The word testifying means "to solemnly give witness." This reminds us of the seriousness of the message and of the ministry. As we share the gospel with others, it is a matter of life or death.
For instance, in the case of a witness, to give false or incorrect testimony could have dire consequences, like the wrong person being convicted of a crime, for instance.
So we must take this very seriously. Let's look for opportunities to do this.
Copyright © 2009 by Harvest Ministries. All rights reserved.
Scripture taken from the New King James Version. Copyright © 1982 by Thomas Nelson, Inc. Used by permission. All rights reserved. Bible text from the New King James Version is not to be reproduced in copies or otherwise by any means except as permitted in writing by Thomas Nelson, Inc., Attn: Bible Rights and Permissions, P.O. Box 141000, Nashville, TN 37214-1000.
For more relevant and biblical teaching from Pastor Greg Laurie, go to www.harvest.org.
SPECIAL OFFER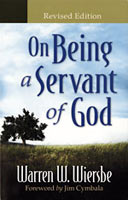 On Being a Servant of God
"I don't know of a better resource for you to add to your bookshelf than On Being a Servant of God. Written by one of the great communicators in the church, Warren Wiersbe, it is a book that I believe will enrich your life."
-Greg Laurie
On Being a Servant of God invites you to listen in on the thirty short "armchair chats" to gain practical and encouraging insights that will increase your desire to serve the Lord for His glory.
You can have your own copy of On Being a Servant of God in appreciation for your gift to Harvest Ministries this month.