Friday, February 6, 2009
This week's devotions are taken from a recent series of posts on Pastor Greg's blog. To see his latest blog entry, click here.
Being a Watchman
We have been looking at the apostle Paul's different descriptions of the Christian life in Acts 20. We have seen the Christian compared to a runner in a race, a steward, a witness, and a herald.
Let's look at one final picture: the watchman.
To the leaders in the church of Ephesus, Paul says, "Therefore I testify to you this day that I am innocent of the blood of all men" (Acts 20:26).
What is a watchman?
What does it mean when Paul says he is "innocent of the blood of all men?"
In the book of Ezekiel, the Lord impresses on His servant the importance of his role: "Son of man, I have appointed you as a watchman for Israel. Whenever you receive a message from me, pass it on to the people immediately. If I warn the wicked, saying, 'You are under the penalty of death,' but you fail to deliver the warning, they will die in their sins. And I will hold you responsible, demanding your blood for theirs" (Ezekiel 3:17-18 nlt).
Pay attention!
In ancient times, cities would have large walls around them to offer much-needed protection. On those walls would be towers that would be even higher. There, the watchmen would position himself to keep an eye on any potential dangers. For instance, if an enemy army was approaching, the watchmen would have the trumpet sounded to warn the people.
What a serious calling it was to have this role. The watchman had to stay awake and alert, paying careful attention. He had to be faithful, not fearful, because the safety of many people rested with him.
This is the most sobering of the terms Paul uses here in Acts 20, showing that the sharing of the gospel is not something we are to do in a casual manner, or when we are "in the mood." This is something of extreme importance.
We are to be watchmen too
My name, Gregory, means "Watchman," so I am doubly reminded of this.
We are all called to lovingly warn our friends if we see them in any spiritual danger. This would not only be those who do not yet know the Lord, but also Christian friends who might be misled or overtaken by a sin.
The apostle Paul wrote to the believers in the church of Galatia and said, "Dear friends, if a Christian is overcome by some sin, you who are godly should gently and humbly help that person back onto the right path. And be careful not to fall into the same temptation yourself" (Galatians 6:1 nlt).
Let's all seek to be faithful runners, servants, witnesses, heralds, and watchmen in our world today.
Copyright © 2009 by Harvest Ministries. All rights reserved. 
Scripture taken from the New King James Version. Copyright © 1982 by Thomas Nelson, Inc. Used by permission. All rights reserved. Bible text from the New King James Version is not to be reproduced in copies or otherwise by any means except as permitted in writing by Thomas Nelson, Inc., Attn: Bible Rights and Permissions, P.O. Box 141000, Nashville, TN 37214-1000.
For more relevant and biblical teaching from Pastor Greg Laurie, go to  www.harvest.org. 
SPECIAL OFFER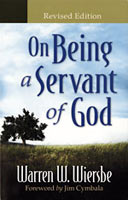 On Being a Servant of God
"I don't know of a better resource for you to add to your bookshelf than On Being a Servant of God. Written by one of the great communicators in the church, Warren Wiersbe, it is a book that I believe will enrich your life."
-Greg Laurie
On Being a Servant of God invites you to listen in on the thirty short "armchair chats" to gain practical and encouraging insights that will increase your desire to serve the Lord for His glory.
You can have your own copy of On Being a Servant of God in appreciation for your gift to Harvest Ministries this month.