Wednesday, January 20, 2010
What I Believe
How then shall they call on Him in whom they have not believed? And how shall they believe in Him of whom they have not heard? And how shall they hear without a preacher?
—Romans 10:14
Sometimes people ask me why I do what I do. I have a very simple answer to that question, which is that I really do believe the things that we read in the Bible are true.
For example, I really believe what the Bible says about our lives being "a vapor that appears for a little time and then vanishes away" (James 4:14). I really believe there is an eternity, there is an afterlife, there is a heaven, and there is a hell. I really believe that only those who have put their faith in Jesus Christ will go to heaven. And I also believe that I need to share this message with as many people as possible.
I received the following letter from someone who came to Christ at one of our Harvest Crusades some years ago:
My younger brother went to sleep one night and never woke up. He was 23 years old, and he had just graduated from college. He moved to Philadelphia after he graduated... I found out the Harvest Crusade was coming to Philadelphia, so I took my younger brother with me to hear the gospel. He was not yet a believer. He went forward at the invitation and gave his life to Christ, and God called him home... one month after his commitment to Christ. My brother lives today because of your ministry... he is in the arms of Jesus, and that's where I will meet him again.
That is why I do what I do. That is why I want to get the gospel out. And that is why we were placed on this earth: to come into a relationship with God, to know Him, and to glorify Him with our lives.
Copyright © 2010 by Harvest Ministries. All rights reserved.
Scripture taken from the New King James Version. Copyright © 1982 by Thomas Nelson, Inc. Used by permission. All rights reserved.
For more relevant and biblical teaching from Pastor Greg Laurie, go to www.harvest.org
and
to listen to Greg Laurie's daily broadcast on OnePlace.com, click here.
SPECIAL OFFER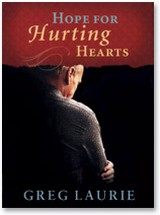 Hope for Hurting Hearts
In times of tragedies and trials, certain things become evident:
This life will have its sorrows
God loves us
Jesus weeps in our times of pain
God can be glorified through human suffering
Hope for Hurting Hearts, Pastor Greg Laurie's new book, examines these truths, revealing God's love and care for us, and shows how we can find hope, even in the midst of the most unbearable pain and sorrow.
You can have your own copy of Hope for Hurting Hearts by Greg Laurie in appreciation for your gift to Harvest Ministries this month.