Friday, January 22, 2010
Lying to God
Immediately he went up to Jesus and said, "Greetings, Rabbi!" and kissed Him.
—Matthew 26:49
The worst kind of sin is the kind committed by someone who doesn't think he really is a sinner. It was Cicero who said, "Of all villainy, there is none more base than that of the hypocrite, who at the moment he is most false, takes care to appear most virtuous."
Think for a moment about a garden-variety sinner. Then think of someone who attends church every week. Is it possible that a person in the church pew could be in worse shape than a garden-variety sinner? It is possible. Here's how: If the person who is an unbeliever recognizes that fact, there is hope that one day he or she will come under the conviction of the Holy Spirit, turn from a sinful lifestyle, and believe in Jesus. But the person who attends church every week with no intention of responding to what he or she is hearing is actually a hypocrite.
It is better to just be what you are. It is better to say, "I am not into this. I don't believe in this. I don't care about this . . . " than to pretend to be spiritual when you are not. God hates hypocrisy.
This doesn't mean that you won't be inconsistent at times. It doesn't mean that you won't fall short at times. We all have had moments of hypocrisy. But a hypocrite is someone who wears a mask, someone who pretends to be someone they really are not.
The hypocrite extraordinaire, if you will, was Judas Iscariot. When he betrayed Jesus, he did so with a kiss. He could have just pointed and said, "There is Jesus. My job is done." But he kissed Him. At the moment when he appeared to be the most virtuous, he was the most sinful. And that is lying to God.
Copyright © 2010 by Harvest Ministries. All rights reserved.
Scripture taken from the New King James Version. Copyright © 1982 by Thomas Nelson, Inc. Used by permission. All rights reserved.
For more relevant and biblical teaching from Pastor Greg Laurie, go to www.harvest.org
and
to listen to Greg Laurie's daily broadcast on OnePlace.com, click here.
SPECIAL OFFER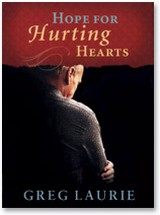 Hope for Hurting Hearts
In times of tragedies and trials, certain things become evident:
This life will have its sorrows
God loves us
Jesus weeps in our times of pain
God can be glorified through human suffering
Hope for Hurting Hearts, Pastor Greg Laurie's new book, examines these truths, revealing God's love and care for us, and shows how we can find hope, even in the midst of the most unbearable pain and sorrow.
You can have your own copy of Hope for Hurting Hearts by Greg Laurie in appreciation for your gift to Harvest Ministries this month.