Monday, July 14, 2008
The Ultimate Sign
Then some of the scribes and Pharisees answered, "Teacher, we want to see a sign from You." (Matthew 12:38)
Would miracles make more people believe? Would unbelievers become believers if they were to see a bona fide miracle?
The scribes and Pharisees' demand for a sign prompted Jesus to give them some of His most solemn and searching words:
"An evil and adulterous generation seeks after a sign, and no sign will be given to it except the sign of the prophet Jonah. . . . The men of Ninevah will rise in the judgment with this generation and condemn it, because they repented at the preaching of Jonah; and indeed a greater than Jonah is here." (Matthew 12:39, 41)
Jesus' response seems rather harsh. After all, here were some individuals who were simply asking for a miracle. He had performed many of them. What's one more? Perhaps that miracle could have brought them to faith. Why didn't He grant their request?
The answer is that Jesus always looks at the motives behind what people say and do. He is far more interested in what is going on in our hearts than what is coming out of our mouths.
As He looked in their hearts, no doubt He saw the real reason behind their request: They wanted to destroy Jesus. Matthew 12:14 tells us that the Pharisees "took counsel against Him, how they might destroy Him."
Jesus died on the cross for them and all of humanity, and rose again from the dead, because we all were separated from God by sin. That is the message Jesus essentially was giving to the Pharisees. That is the message He essentially is giving to us.
It is the greatest sign of all. It is the ultimate sign.
Copyright © 2008 by Harvest Ministries. All rights reserved. Scripture quotations are taken from The Holy Bible, New King James Version, copyright © 1982 by Thomas Nelson, Inc.
For more relevant and biblical teaching from Pastor Greg Laurie, go to www.harvest.org.
SPECIAL OFFER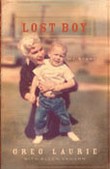 Lost Boy
The Bible says, "If any man be in Christ, he is an altogether different kind of person. Old things have passed away. Everything becomes fresh and new." That is the truth I want you and everyone who reads this book to come away with. And it is a message not just of hope, but also of Christ's redemptive power.
-Greg Laurie
You can have your own copy of the book Lost Boy in appreciation for your gift sent to Harvest Ministries this month.