Thursday, July 14, 2011
People Reaching People
"So faith comes from hearing, that is, hearing the Good News about Christ." (Romans 10:17)
It is worth noting that no person in the New Testament came to faith apart from the agency of a human being. Have you ever stopped and thought about that? We can find example after example.
There was the Ethiopian (see Acts 8:26-39). There are many ways that God could have reached this man from a distant country. He could have sent an angel to meet him. Instead, the Lord sent an angel to Philip and told him to go. So Philip went and proclaimed the gospel to that man, and he believed.
Then there was the Philippian jailer (see Acts 16:27–34). God could have reached him in many ways. Instead, He allowed Paul and Silas to be incarcerated and to ultimately proclaim the gospel, bringing that man and his family to faith.
We can think of Cornelius, a man who was searching for God (see Acts 10). An angel spoke to him and told him he needed to meet a man named Simon Peter. The angel explained where to find him. The angel could have given him the gospel. But God chose to use Simon Peter.
What about Saul? While it is true that he was converted through an encounter with Christ on the Damascus Road, his conversion was sandwiched between experiences with two people who influenced him. First, it was the witness of Stephen that softened Saul's heart and made it receptive to the seed of the Word when he was confronted by Jesus Christ. Afterward, God sent Ananias to follow up on Saul and pray for him to receive the power of the Holy Spirit. God chooses to use people to bring the gospel to the lost.
Summary sentence: God used people. And He wants to use you.
Copyright © 2010 by Harvest Ministries. All rights reserved. Scripture quotation is taken from the Holy Bible, New Living Translation, copyright © 1996. Used by permission of Tyndale House Publishers, Inc., Wheaton, Illinois 60189. All rights reserved.
Go! Into Your World
Practical Application Points for Personal Evangelism
Thursday, July 14
Evangelism starts with love. If you get up in front of millions of people and preach the most amazing gospel message this world has ever heard, yet don't have love for the people you are talking to, your message will be worthless (see 1 Corinthians 13:1–2).This love cannot be contrived; it must be genuine.
How do you get a loving outlook? Study the Bible to understand God's heart and then pray that God would give you the same love that He has for people. The God of love will change your entire perspective when it comes to witnessing (see Matthew 9:36–38).
For more relevant and biblical teaching from Pastor Greg Laurie, go to www.harvest.org
and
Listen to Greg Laurie's daily broadcast on OnePlace.com.
Watch Greg Laurie's weekly television broadcast on LightSource.com.
SPECIAL OFFER
Is "happily ever after" possible?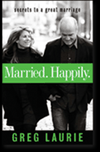 Whether you are thinking about marriage, are newly married, or have been married for many years, this book will guide you to build, strengthen, or repair the biblical foundation of your marriage. For the couple whose marriage is hanging by a thread, it is not too late to have your marriage be what God designed. The application of the biblical principles found in this book, will make your marriage stronger than it has ever been before.
"It is God's desire that your marriage be a vibrant, flourishing, blessed marriage…dare I say a happy marriage?" –Greg Laurie
You can have Married. Happily. in appreciation for your gift to Harvest Ministries this month.