Greg Laurie Daily Devotion - July 3, 2008

Thursday, July 3, 2008
Unwavering Faith
"And the Lord will deliver me from every evil work and preserve me for His heavenly kingdom. To Him be glory forever and ever. Amen!" (2 Timothy 4:18)
One of the things that amazes me about the apostle Paul is how he always seemed to rise to the top of every situation and seized every opportunity to preach the gospel.
We read in the Book Acts that when Paul and Silas were thrown in prison, they began to sing praises to God at midnight. An earthquake struck, the walls fell, and the next thing you know, the very jailer who was responsible for chaining them up and whipping them asked, "What must I do to be saved?"
Then, when Paul was brought before the various dignitaries of Rome, he became master of every situation. For example, when he was before Felix, he reasoned with him regarding righteousness, self-control, and the judgment to come. When he stood before Festus and Herod Agrippa II, he said, "Why should it be thought incredible by you that God raises the dead?" He posed the question to Herod Agrippa II, "Do you believe the prophets? I know that you do believe." He was a prisoner on a ship, and in a short time, the crew, the captain, the soldiers, and the Roman centurion were taking orders from Paul---and everyone was listening to him!
Paul was bold. He didn't seem to be afraid of anything. He never seemed to get down. His life wasn't always easy. In fact, it was very difficult. But the words he penned to the believers at Philippi seemed to always hold true: "I have learned in whatever state I am, to be content" (Philippians 4:11).
He was fully convinced of the faithfulness of God and was sustained by that conviction.
Copyright © 2008 by Harvest Ministries. All rights reserved. Scripture quotations are taken from the Holy Bible, New King James Version, copyright © 1982 by Thomas Nelson, Inc.
For more relevant and biblical teaching from Pastor Greg Laurie, go to www.harvest.org.
SPECIAL OFFER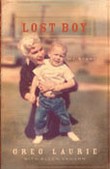 Lost Boy
The Bible says, "If any man be in Christ, he is an altogether different kind of person. Old things have passed away. Everything becomes fresh and new." That is the truth I want you and everyone who reads this book to come away with. And it is a message not just of hope, but also of Christ's redemptive power.
-Greg Laurie
You can have your own copy of the book Lost Boy in appreciation for your gift sent to Harvest Ministries this month.