Wednesday, July 9, 2008
In His Time
"Then Jesus said to them plainly, 'Lazarus is dead. And I am glad for your sakes that I was not there, that you may believe. Nevertheless let us go to him.'" (John 11:14–15)
Martha, Mary, and their brother, Lazarus, were close friends of Jesus. He would often spend time in their home in Bethany.
When Lazarus became sick, Martha and Mary sent word to Jesus. No doubt they thought that Jesus would drop whatever He was doing and rush back to Bethany. But Jesus intentionally delayed His arrival.
In fact, Jesus didn't show up until much later. By the time He hit town, not only had Lazarus died, but he had been dead four days. Martha walked up and said, "Lord, if You had been here, my brother would not have died" (John 11:21). Loose paraphrase: "Jesus, you blew it. You had the perfect situation here. You could have healed him, but you didn't show up."
Jesus told her, "Your brother will rise again."
Martha replied, "I know that he will rise again in the resurrection at the last day."
Jesus said, "I am the resurrection and the life. He who believes in Me, though he may die, he shall live. And whoever lives and believes in Me shall never die. Do you believe this?" (John 11:23-25)
Martha didn't quite get it, so Jesus said, "Lazarus, come forth!" and her brother came out of the tomb. Martha wanted a healing. Jesus wanted a resurrection.
Sometimes we limit God. Sometimes we think God must work on our schedules. But God will not be bound by time. God will not be bound by our schedules. God will work when He chooses and with whom He chooses.
Therefore, there will be times when our circumstances don't make sense. Even then, we need to trust Him.
Copyright © 2008 by Harvest Ministries. All rights reserved. Scripture quotations are taken from the Holy Bible, New King James Version, copyright © 1982 by Thomas Nelson, Inc.
For more relevant and biblical teaching from Pastor Greg Laurie, go to www.harvest.org.
SPECIAL OFFER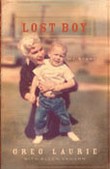 Lost Boy
The Bible says, "If any man be in Christ, he is an altogether different kind of person. Old things have passed away. Everything becomes fresh and new." That is the truth I want you and everyone who reads this book to come away with. And it is a message not just of hope, but also of Christ's redemptive power.
-Greg Laurie
You can have your own copy of the book Lost Boy in appreciation for your gift sent to Harvest Ministries this month.