Friday, June 11, 2010
Wake Up, Sober Up, and Suit Up
But let us who are of the day be sober, putting on the breastplate of faith and love, and as a helmet the hope of salvation.
—1 Thessalonians 5:8
For 17 years of my life, I lived in an alcoholic home. I spent a lot of time around drunk people. That is pretty much all I saw from morning to night. I observed a variety of drunks and the way they reacted to alcohol, and I noticed something about people who come under its influence: they try and act as though they are not affected by it, and they do stupid things.
Alcohol is not the only thing that can intoxicate us in life. There are many things people come under the influence of and don't even realize it. In speaking of the last days, Jesus warned, "But take heed to yourselves, lest your hearts be weighed down with carousing, drunkenness, and cares of this life, and that Day come on you unexpectedly. For it will come as a snare on all those who dwell on the face of the whole earth" (Luke 21:34-35).
The apostle Paul urged Christians waiting for Christ's return, "But let us who are of the day be sober, putting on the breastplate of faith and love, and as a helmet the hope of salvation" (1 Thessalonians 5:8). To be sober means to be clear-headed. We are to be alert. We are to be awake, sane, and steady—not drunk and sleeping.
There is false teaching today that is designed to entrap you and pull you away from God (see 1 Timothy 4:1). That is why there has never been a time when it is more important for us to know the Bible and to walk closely with God.
We are to wake up, sober up, and suit up with our spiritual armor, because we are in a spiritual battle. And if we fail to realize that, then we will become casualties of war.
Copyright © 2010 by Harvest Ministries. All rights reserved.
Scripture taken from the New King James Version. Copyright © 1982 by Thomas Nelson, Inc. Used by permission. All rights reserved.
For more relevant and biblical teaching from Pastor Greg Laurie, go to www.harvest.org
and
to listen to Greg Laurie's daily broadcast on OnePlace.com, click here.
SPECIAL OFFER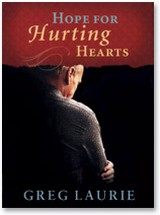 Hope for Hurting Hearts
In times of tragedies and trials, certain things become evident:
This life will have its sorrows
God loves us
Jesus weeps in our times of pain
God can be glorified through human suffering
Hope for Hurting Hearts, Pastor Greg Laurie's new book, examines these truths, revealing God's love and care for us, and shows how we can find hope, even in the midst of the most unbearable pain and sorrow.
You can have your own copy of Hope for Hurting Hearts by Greg Laurie in appreciation for your gift to Harvest Ministries this month.