Friday, June 19, 2009
The Prayers of the Holy Spirit
Likewise the Spirit also helps in our weaknesses. For we do not know what we should pray for as we ought, but the Spirit Himself makes intercession for us.
—Romans 8:26
Have you ever been deeply concerned about something or someone, but you didn't know what to pray? "What can I say," you wonder. "I don't know how to articulate this."
But did you know that sometimes some of the best prayers are the shortest and the simplest?
We might think, God likes flowery, long prayers. In fact, the longer they are, the more impressed God will be. I don't think so.
Jesus spoke of the Pharisees who loved to pray long prayers. He said, " 'They think that they will be heard for their many words. Therefore do not be like them. For your Father knows the things you have need of before you ask Him' " (Matthew 6:7–8).
Sometimes, we will come to God and say, "Lord, I want to pray for this situation. Um, well, um. . . ." We want to pray, but we don't know how to articulate it. It may be nothing more than a grunt or a groan.
But God understands that prayer. Whether you have a beautiful prayer to pray or whether you don't know what to say, present it to God, and the Holy Spirit will help you.
According to Romans 8:26, "The Spirit also helps in our weaknesses." The Holy Spirit helps us to pray.
Remember all that God has done for you and all that He is doing for you. He saved you. His Holy Spirit indwells you. He assures you. He teaches you. And He helps you to pray.
So let's yield to Him. Let's open up our hearts to the work that He wants to do in our lives.
Copyright © 2009 by Harvest Ministries. All rights reserved.
Scripture taken from the New King James Version. Copyright © 1982 by Thomas Nelson, Inc. Used by permission. All rights reserved. Bible text from the New King James Version is not to be reproduced in copies or otherwise by any means except as permitted in writing by Thomas Nelson, Inc., Attn: Bible Rights and Permissions, P.O. Box 141000, Nashville, TN 37214-1000.
For more relevant and biblical teaching from Pastor Greg Laurie, go to www.harvest.org
and
to listen to Greg Laurie's daily broadcast on OnePlace.com, click here.
SPECIAL OFFER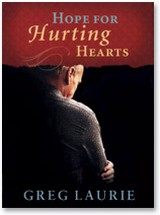 Hope for Hurting Hearts
In times of tragedies and trials, certain things become evident:
This life will have its sorrows
God loves us
Jesus weeps in our times of pain
God can be glorified through human suffering
Hope for Hurting Hearts, Pastor Greg Laurie's new book, examines these truths, revealing God's love and care for us, and shows how we can find hope, even in the midst of the most unbearable pain and sorrow.
You can have your own copy of Hope for Hurting Hearts by Greg Laurie in appreciation for your gift to Harvest Ministries this month.