Greg Laurie Daily Devotion - June 2, 2008

Monday, June 2, 2008
The Right Motive for Running
"Yet indeed I also count all things loss for the excellence of the knowledge of Christ Jesus my Lord. . . . " (Philippians 3:8)
Back when I was in high school, I ran track and field. Whenever a pretty girl was watching, I always ran faster. I wanted to impress her.
If you are a Christian because someone else is or because you want to impress someone, then I have news for you: you are not going to make it in the race of life. You must run this race for the Lord himself. That is what will give you the strength to keep going.
The apostle Paul made clear his motive for running this race when he said, "That I may know Him and the power of His resurrection, and the fellowship of His sufferings . . . " (Philippians 3:9). Notice that Paul didn't say, "That I may know about Him." We know about a lot of things today. We know about certain celebrities. You may have read articles that describe these people. You may know a lot about them. But you really don't know them.
In the same way, you can say, "I know all about Jesus. I know all about the Bible." But Paul didn't say He wanted to know about Jesus. He said he wants to know Him. There is a difference. You need to know about Him, but you also need to know Him. And that comes through a relationship with Jesus Christ.
Hebrews 12 says, "Let us run with endurance the race that is set before us, looking unto Jesus, the author and finisher of our faith . . ." (vv. 1–2). That is the right motive for running. That is what will help you finish the race with flying colors.
Copyright © 2008 by Harvest Ministries. All rights reserved. Scripture quotations are taken from the Holy Bible, New King James Version, copyright © 1982 by Thomas Nelson, Inc.
For more relevant and biblical teaching from Pastor Greg Laurie, go to www.harvest.org.
SPECIAL OFFER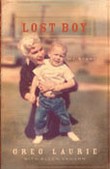 Lost Boy
The Bible says, "If any man be in Christ, he is an altogether different kind of person. Old things have passed away. Everything becomes fresh and new." That is the truth I want you and everyone who reads this book to come away with. And it is a message not just of hope, but also of Christ's redemptive power.
-Greg Laurie
You can have your own copy of the book Lost Boy in appreciation for your gift sent to Harvest Ministries this month.