Wednesday, June 24, 2009
Today's devotion is adapted from a recent post on Greg's Blog. To read Pastor Greg's latest blog entry, click here.
The Problem of Pain
And we know that in all things God works for the good of those who love him, who have been called according to his purpose.
—Romans 8:28
In the wrap-up to His Sermon on the Mount, Jesus told a story about two men who built two homes. They may have been at the same time and close to together. They might have even had the same floor plan.
One of the builders, however, erected his home on shifting sand, while the other built his home on a stable rock foundation.
Then the storms came, with wind and driving rain hitting both of those houses—hard! The house that had been built on sand collapsed and fell in upon itself, while the one built on the rock stood firm.
The obvious moral of the story is to build your life on a foundation that will last, like the one we find in the pages of God's Word.
But here's an application we sometimes miss. The storm came to both lives. The wind beat on both houses. The rain poured on both building sites.
The man who was wise and carefully chose a stable foundation got hit with the same hurricane-force winds as the man who foolishly took shortcuts and didn't bother to plan ahead.
No one is exempt
We will all experience storms in life. Good things will happen to us, as well as tragic and inexplicable things. Every life will have its share of pain.
As much as we would like to believe otherwise, none of us can take an extended vacation beyond the reach of human suffering and tragedy.
Former British Prime Minister Benjamin Disraeli summed up life in this pessimistic way: "Youth is a mistake. Manhood is a struggle. And old age a regret."
I understand Disraeli's pessimism, but allow me to offer another answer. God is in control of the life of the Christian and can actually bring good out of bad.
That is what the Bible teaches, and that is what I believe. That's not to say that God will make bad into good, because bad is bad. But it is to say that good can come out of bad.
As Romans 8:28 affirms: "And we know that in all things God works for the good of those who love him, who have been called according to his purpose." A better translation would be, "He is causing all things to work and to continue working together for good."
Life is a process and, as finite beings who live moment to moment, we can't see around the bend. We can't discern God's ultimate purposes.
But we can know this: He is watching and caring, in control and loving us with an everlasting love.
Copyright © 2009 by Harvest Ministries. All rights reserved.
Scripture taken from the New King James Version. Copyright © 1982 by Thomas Nelson, Inc. Used by permission. All rights reserved. Bible text from the New King James Version is not to be reproduced in copies or otherwise by any means except as permitted in writing by Thomas Nelson, Inc., Attn: Bible Rights and Permissions, P.O. Box 141000, Nashville, TN 37214-1000.
For more relevant and biblical teaching from Pastor Greg Laurie, go to www.harvest.org
and
to listen to Greg Laurie's daily broadcast on OnePlace.com, click here.
SPECIAL OFFER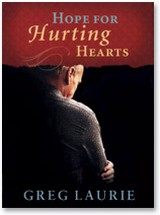 Hope for Hurting Hearts
In times of tragedies and trials, certain things become evident:
This life will have its sorrows
God loves us
Jesus weeps in our times of pain
God can be glorified through human suffering
Hope for Hurting Hearts, Pastor Greg Laurie's new book, examines these truths, revealing God's love and care for us, and shows how we can find hope, even in the midst of the most unbearable pain and sorrow.
You can have your own copy of Hope for Hurting Hearts by Greg Laurie in appreciation for your gift to Harvest Ministries this month.