Thursday, June 4, 2009
The Final Sacrifice
Who Himself bore our sins in His own body on the tree, that we, having died to sins, might live for righteousness.
—1 Peter 2:24
I don't like to really clean. Instead, I would rather put something over a mess so that I don't have to look at it. That is sort of the way I clean things.
In contrast, when my wife Cathe cleans, she really cleans. I think she actually enjoys the process, which is a mystery to me. I like things clean, but I don't like the process of cleaning.
In the Old Testament, God established that the sins of individuals would be symbolically transferred to an animal that would die in his or her place (see Leviticus 1–8). This atoning sacrifice was necessary to meet the righteous demands of a holy and just God.
In the Old Testament, the word atonement can be translated to say, "a covering" or "to cover over something."
While this atonement provided covering, it didn't get to the root of the problem. But Jesus Christ's death on the cross did. His atoning sacrifice washed away, eliminated, and wiped out all of our sins.
Jesus was the fulfillment of all that the Old Testament pointed toward. He became the final sacrifice. Jesus was "the Lamb of God who takes away the sin of the world" (John 1:29).
When Jesus uttered the words, "It is finished," it could also be translated, "It is made an end of." Or, "It is paid." Or, "It is performed." Or, "It is accomplished."
What was made an end of? Our sins and the guilt that accompanied them. What was paid? The price of our redemption. What was performed? The righteous requirements of the law. What was accomplished? The work the Father had given Him to do.
Copyright © 2009 by Harvest Ministries. All rights reserved.
Scripture taken from the New King James Version. Copyright © 1982 by Thomas Nelson, Inc. Used by permission. All rights reserved. Bible text from the New King James Version is not to be reproduced in copies or otherwise by any means except as permitted in writing by Thomas Nelson, Inc., Attn: Bible Rights and Permissions, P.O. Box 141000, Nashville, TN 37214-1000.
For more relevant and biblical teaching from Pastor Greg Laurie, go to www.harvest.org
and
to listen to Greg Laurie's daily broadcast on OnePlace.com, click here.
SPECIAL OFFER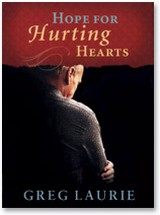 Hope for Hurting Hearts
In times of tragedies and trials, certain things become evident:
This life will have its sorrows
God loves us
Jesus weeps in our times of pain
God can be glorified through human suffering
Hope for Hurting Hearts, Pastor Greg Laurie's new book, examines these truths, revealing God's love and care for us, and shows how we can find hope, even in the midst of the most unbearable pain and sorrow.
You can have your own copy of Hope for Hurting Hearts by Greg Laurie in appreciation for your gift to Harvest Ministries this month.