Count on It
But you must not forget this one thing, dear friends: A day is like a thousand years to the Lord, and a thousand years is like a day. (2 Peter 3:8)
When we look around and see that things are getting green again, we know that spring is coming. We also know that summer will follow. We see the signs that tell us what is ahead. And in the same way, we can see signs of the times, telling us the return of the Lord is close.
God knows the future better than we know the past. And when God says these things will happen, it is not as though He is going out on a limb.
Would you think it was amazing if I told you about something that just happened? That is no big deal. I have recollection of the past. But if I were to predict something that would happen in two days to an exact time, or two months, or 10 years, or 100 years, or 300 years, that would be significant. We may not be around to see it fulfilled, but someone else would if I had written it down or recorded it.
That is what God did in Scripture. And Scripture is very specific about the scattering of the Jewish people to the four corners of the earth and their regathering. In fact, in Ezekiel 37:21–22, among other places, a number of things are said about Israel. First of all, Scripture says that God would take the sons of Israel from among the nations where they had gone. Second, He would gather them from every side and bring them to their own land. And third, He would make them one nation in the land.
Have these three things happened? Check, check, and check. They have happened just as the Bible predicted.
God lives in the eternal realm, and God sees the future as clearly as He sees the past. He sees everything. And He knows everything.
Summary sentence: God sees the future as clearly as He sees the past.
Tags: Signs of the times, end times, Israel regathered
Copyright © 2012 by Harvest Ministries. All rights reserved.
Unless otherwise indicated, Scripture taken from the New King James Version. Copyright © 1982 by Thomas Nelson, Inc. Used by permission. All rights reserved.
For more relevant and biblical teaching from Pastor Greg Laurie, go to www.harvest.org
and
Listen to Greg Laurie's daily broadcast on OnePlace.com.
Watch Greg Laurie's weekly television broadcast on LightSource.com.
SPECIAL OFFER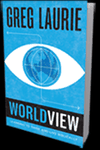 In appreciation for your gift this month to Harvest Outreach Ministries, we want to send you Worldview: Learning to Think and Live Biblically.
"We can't allow our emotions to dictate our worldview; rather, we must base our worldview on absolute truth. And the only place where you can find that absolute truth is in the pages of Scripture." —Greg
You can receive your own copy of Worldview: Learning to Think and Live Biblically in appreciation for your gift today to Harvest Ministries. This resource outlines the principles for you to build or rebuild a proper biblical foundation for your life.