Wednesday, March 24, 2010
Frenemies
And then he added, "It is what comes from inside that defiles you. For from within, out of a person's heart, come evil thoughts, sexual immorality, theft, murder, adultery, greed, wickedness, deceit, lustful desires, envy, slander, pride, and foolishness. All these vile things come from within; they are what defile you."
—Mark 7:20-23
Three enemies that we contend with as Christians are the world, the flesh, and the devil. The world with its allure is the external foe. The flesh with its evil desires is the internal foe. And the devil with his enticements is the infernal foe. These are what we deal with on a daily basis.
The problem is that we become frenemies with the world. A frenemy is someone whom you normally don't get along with, but if it serves both of your purposes, you temporarily become friends. Or, it might be a love-hate relationship: You are on. You are off. You are on. You are off. Then again, it might be a description of a relationship that is poisonous, and whenever you are around that person, it drags you down spiritually. Thus, he or she becomes a frenemy.
Some of us have become frenemies with the world. When the Bible speaks of the world, it doesn't mean the planet Earth. It is speaking of a pervasive philosophy that infects everything, everywhere. We are told in 1 John 2:16, "For the world offers only a craving for physical pleasure, a craving for everything we see, and pride in our achievements and possessions. These are not from the Father, but are from this world."
The world is enticing. But for its pull to work, we must desire what it is offering. Jesus said, "It is what comes from inside that defiles you" (Mark 7:20). Why do we do the stupid stuff that we do? It is just our nature—our human, sinful nature. We have to be aware of the combustible, evil, sinful nature that is inside every one of us. The answer is not within; the problem is within. So when we give in to temptation, we have ourselves to thank.
Copyright © 2010 by Harvest Ministries. All rights reserved.
Scripture quotations are taken from the Holy Bible, New Living Translation, copyright 1996, 2004. Used by permission of Tyndale House Publishers, Inc., Wheaton, Illinois 60189. All rights reserved.
For more relevant and biblical teaching from Pastor Greg Laurie, go to www.harvest.org
and
to listen to Greg Laurie's daily broadcast on OnePlace.com, click here.
SPECIAL OFFER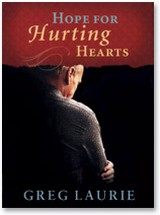 Hope for Hurting Hearts
In times of tragedies and trials, certain things become evident:
This life will have its sorrows
God loves us
Jesus weeps in our times of pain
God can be glorified through human suffering
Hope for Hurting Hearts, Pastor Greg Laurie's new book, examines these truths, revealing God's love and care for us, and shows how we can find hope, even in the midst of the most unbearable pain and sorrow.
You can have your own copy of Hope for Hurting Hearts by Greg Laurie in appreciation for your gift to Harvest Ministries this month.