Thursday, March 31, 2011
A Working Conscience
Now the Spirit expressly says that in latter times some will depart from the faith, giving heed to deceiving spirits and doctrines of demons, speaking lies in hypocrisy, having their own conscience seared with a hot iron. —1 Timothy 4:1–2
Arthur Conan Doyle, author of the famed Sherlock Holmes novels, was a bit of a practical joker. One day, on a lark, he jotted out a note and sent it to 12 of his closest friends. The note read, "Flee at once! All is discovered!" Within 24 hours, all 12 of his friends had left the country.
The conscience is a bit like an alarm; it warns us of impending danger. Sometimes we are tempted to ignore or even disable alarms because we don't want to listen to them. The smoke alarm in my house only goes off at 3:00 a.m., warning that the battery is dead. It is very tempting to disconnect it so that I won't have to listen to it.
But if our conscience is working, if it is reminding us that something we have said or done is wrong, then that is a good thing. We want a conscience that is tender, a conscience that works properly. We don't want to try to disable it, and we certainly don't want to dull it, because the Bible warns that we can sear our conscience as with a hot iron (see 1 Timothy 4:1–2). This means having a conscience that is calloused and hard.
Everyone has a God-given conscience. As Romans 2:14 tells us,"For when Gentiles, who do not have the law, by nature do the things in the law, these, although not having the law, are a law to themselves, who show the work of the law written in their hearts, their conscience also bearing witness, and between themselves their thoughts accusing or else excusing them."
We need to teach our conscience how to function properly. We want to effectively educate it with God's Word so it will do what it is supposed to as designed by our Creator.
Copyright © 2011 by Harvest Ministries. All rights reserved.
Scripture taken from the New King James Version. Copyright © 1982 by Thomas Nelson, Inc. Used by permission. All rights reserved.
For more relevant and biblical teaching from Pastor Greg Laurie, go to www.harvest.org
and
Listen to Greg Laurie's daily broadcast on OnePlace.com.
Watch Greg Laurie's weekly television broadcast on LightSource.com.
SPECIAL OFFER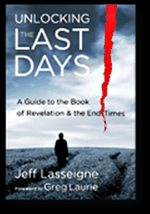 Unlocking the Mystery of Revelation
Intimidated to start reading Revelation because you are afraid that it won't make sense to you, or that you won't be able to figure out what it really means? This new book that we are offering to our listeners, called Unlocking the Last Days and written by Pastor Jeff Lasseigne, is a tool that is going to help you to understand the Book of Revelation, perhaps better than you have ever understood it before. It is a resource that will bless you and strengthen you as it gives you a greater appreciation for the simple fact that Jesus Christ is coming back again soon.
You can have your own copy of Unlocking the Last Days in appreciation for your gift to Harvest Ministries this month.