The Why behind Sickness and Death - Greg Laurie Daily Devotion - May 11

Friday, May 11, 2018
The Why behind Sickness and Death
Therefore, just as through one man sin entered the world, and death through sin, and thus death spread to all men, because all sinned. (Romans 5:12 NKJV)
I was getting a haircut the other day, and the stylist spent as much time trimming my ears as she did cutting my hair. I wonder why it is that hair doesn't grow where you want it to grow, and it does grow where it shouldn't grow.
As we age, our bodies wear out. This one of the results of the curse that came upon humanity in the Garden of Eden because Adam and Eve sinned. We know that sickness, and even death itself, is a result of it. Romans 5:12 tells us, "Therefore, just as through one man sin entered the world, and death through sin, and thus death spread to all men, because all sinned" (NKJV).
In a broad sense, the very fact that our bodies don't last forever, that our bodies wrinkle and age, and our hair falls out, is the result of that curse. Sickness is a part of the curse as well. It can come into the lives of Christians and even be allowed by God.
Sickness and death comes because of sin in general, but it also can come as a result of it. When Jesus healed a man who was paralyzed, He said, "Son, be of good cheer; your sins are forgiven you" (Matthew 9:2 NKJV). This indicates that in this man's case, his paralysis was linked to personal sin. I'm not suggesting the reason someone is paralyzed or has a disability is because of personal sin. Not all sickness is the result of personal sin, but in this man's case it was.
We all have to come to terms with our own mortality. The question is where will you go? Will you go to meet the Lord in Heaven? Or, will you be eternally separated from Him in a place called Hell?
Copyright © 2018 by Harvest Ministries. All rights reserved.
For more relevant and biblical teaching from Pastor Greg Laurie, go to www.harvest.org
and
Listen to Greg Laurie's daily broadcast on OnePlace.com.
Watch Greg Laurie's weekly television broadcast on LightSource.com.
SPECIAL OFFER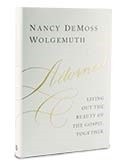 In thanks for your gift, you can receive a copy of Adorned
Is social media teaching women that their lives must be "picture perfect"? Are magazine covers and television programs telling women that they have to look a certain way to be beautiful? You know they are. In her book Adorned, Nancy DeMoss Wolgemuth addresses these things and directs readers to instead pursue an inner beauty that lasts forever.
Adorned is our thank-you gift to you when you donate to Harvest Ministries today.