Monday, May 23, 2011
The Importance of Faith
So they were offended at Him. But Jesus said to them, "A prophet is not without honor except in his own country and in his own house." Now He did not do many mighty works there because of their unbelief.
—Matthew 13:57–58
The Bible has a lot to say about the topic of faith. It speaks of weak faith, strong faith, bold faith, rich faith, abiding faith, steadfast faith, precious faith, common faith, working faith, and obedient faith. It even speaks of dead faith. So we want to make sure we are using the faith God has given us.
The Bible defines faith as "the substance of things hoped for, the evidence of things not seen" (Hebrews 11:1). The New Living Translation puts it this way: "Faith is the confidence that what we hope for will actually happen; it gives us assurance about things we cannot see."
Galatians 3:11 says, "The just shall live by faith." It doesn't say they will live by feeling. Nor does it say they will live by circumstances. The just will live by faith. And faith can make the difference between something happening and not happening.
God is the one who works, but He chooses to work primarily through human means. For example, God could have sovereignly caused the Red Sea to part for the Israelites without the help of Moses. But instead, He told Moses to hold up his staff in an act of faith as the people crossed over. God could have brought down fire on the altar at Mount Carmel without the prayer of Elijah, but he called Elijah to take a step of faith and to pray. Jesus could have healed every person who was alive when He walked this earth. But what we see is that it was primarily those who reached out to Him by faith who received His healing touch. The Bible even tells us that Jesus "did not do many mighty works there [in His own country] because of their unbelief" (Matthew 13:58).
So faith can make all the difference.
Summary Sentence: Faith is a choice—are you using the faith God has given you?
Copyright © 2011 by Harvest Ministries. All rights reserved.
Unless indicated otherwise, Scripture taken from the New King James Version. Copyright © 1982 by Thomas Nelson, Inc. Used by permission. All rights reserved.
For more relevant and biblical teaching from Pastor Greg Laurie, go to www.harvest.org
and
Listen to Greg Laurie's daily broadcast on OnePlace.com.
Watch Greg Laurie's weekly television broadcast on LightSource.com.
SPECIAL OFFER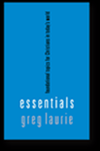 Theology without apology!
There is nothing in this book that is not essential for a Christian to build a strong foundation on the Word of God. It is a book that you will come back to over and over again, as you brush up on that which really matters in life. It really does contain the essentials.
I want to send you your personal copy of Essentials in appreciation for your gift to Harvest this month. You can take the biblical doctrine you find in it's pages and run with it and live it. I would describe Essentials as theology without apology.
You can have your own copy of Essentials in appreciation for your gift to Harvest Ministries this month.