Greg Laurie Daily Devotion - Nov. 5, 2008

Wednesday, November 5, 2008
Armed with the Truth
Stand your ground, putting on the sturdy belt of truth and the body armor of God's righteousness. (Ephesians 6:14)
In his description of the armor of God in Ephesians 6, Paul doesn't start with the high-profile objects like the sword or the shield. Instead, he begins his list by telling us to put on "the sturdy belt of truth."
What was Paul speaking of? We need to think "Roman soldier" here for a moment.
The Romans didn't wear pants like we do today. They wore robes or togas—generally short togas on the battlefield. So to move quickly on the battlefield, the Roman soldier would need to pull the toga up above his knees.
Having the belt tightened simply meant that he would pull up his toga and tighten his belt a couple of notches, which gave him the freedom of movement he needed.
Now the belt is not a dramatic piece of armor, but it was essential to everything else. The breastplate was attached to the belt, as well as the sheath for the sword. If your belt fell off, your breastplate would fall off, and your robe would come loose. You may have the sharpest sword on the block, but you're destined to trip over your own toga and look quite foolish in the process.
So, the belt was important. That is why Paul put it at the top of the list.
To have your belt tightened means you are ready for battle and ready to move. We need to be on duty at all times. We cannot afford to take a couple of days off spiritually. We must keep our armor on at all times, because the moment we take it off is the moment the devil will be there to hit us with full force.
Copyright © 2008 by Harvest Ministries. All rights reserved. Scripture quotations are taken from the Holy Bible, New Living Translation, copyright © 1996. Used by permission of Tyndale House Publishers, Inc., Wheaton, Illinois 60189. All rights reserved.
For more relevant and biblical teaching from Pastor Greg Laurie, go to www.harvest.org.
SPECIAL OFFER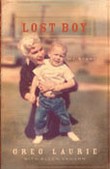 Lost Boy
The Bible says, "If any man be in Christ, he is an altogether different kind of person. Old things have passed away. Everything becomes fresh and new." That is the truth I want you and everyone who reads this book to come away with. And it is a message not just of hope, but also of Christ's redemptive power.
-Greg Laurie
You can have your own copy of the book Lost Boy in appreciation for your gift sent to Harvest Ministries this month.