Tuesday, October 21, 2008
An Invitation to Rest
The Spirit and the bride say, "Come." Let each one who hears them say, "Come." Let the thirsty ones come—anyone who wants to. Let them come and drink the water of life without charge. (Revelation 22:17)
One December, I was on my way to New York and had a connection through Chicago. It was very cold outside, and as I was walking through the airport terminal, I noticed a large advertisement.
It featured a sunny, tropical beach with beautiful, turquoise-blue water, white sand, and an empty beach chair. That picture was so alluring and so appealing because of where I was at that particular moment.
I think that photograph represented something all of us really want: rest, relaxation, and time off. Jesus has something to say to the person who is exhausted and worn out. He has something to say to people who have been chewed up and spit out by life—people who are frustrated, who are hurting.
Here is His personal offer of rest to those who will respond: " 'Come to me, all of you who are weary and carry heavy burdens, and I will give you rest. Take my yoke upon you. Let me teach you, because I am humble and gentle, and you will find rest for your souls. For my yoke fits perfectly, and the burden I give you is light' " (Matthew 11:28–30).
Here we really have the Christian life in a nutshell. Here we see what it is to come to, to know, and to walk with Jesus Christ. This invitation stands today, but it will not stay that way forever.
What is the invitation? Jesus says, "Come to Me." That's it. It is so simple, yet it is so profound. And we see this same invitation echoed throughout Scripture.
Copyright © 2008 by Harvest Ministries. All rights reserved. Scripture quotations are taken from the Holy Bible, New Living Translation, copyright © 1996. Used by permission of Tyndale House Publishers, Inc., Wheaton, Illinois 60189. All rights reserved.
For more relevant and biblical teaching from Pastor Greg Laurie, go to www.harvest.org.
SPECIAL OFFER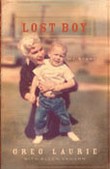 Lost Boy
The Bible says, "If any man be in Christ, he is an altogether different kind of person. Old things have passed away. Everything becomes fresh and new." That is the truth I want you and everyone who reads this book to come away with. And it is a message not just of hope, but also of Christ's redemptive power.
-Greg Laurie
You can have your own copy of the book Lost Boy in appreciation for your gift sent to Harvest Ministries this month.