Waiting and Trusting - Greg Laurie Devotion - February 26/27, 2022

Weekend, February 26, 2022
Waiting and Trusting
"'My thoughts are nothing like your thoughts,' says the Lord. 'And my ways are far beyond anything you could imagine'" (Isaiah 55:8 NLT).
As Jesus made His way to the home of Jairus, a crowd was following them. And then, seemingly out of nowhere, a woman touched the hem of Jesus's garment. It seemed like no big deal. That is, until Jesus suddenly stopped and asked, "Who touched my robe?" (Mark 5:30 NLT).
How easily Jairus could have said, "Hey, hold on. He's with Me." After all, his 12-year-old daughter was sick, and he had tried everything he could to get her better. Then he heard that Jesus was nearby.
We don't know whether Jairus believed in Jesus at this point. Obviously, Jairus was a Jewish spiritual leader, but apparently, he believed that Jesus had the power to heal. So he approached Christ and made this amazing statement: "My little daughter is dying. Please come and lay your hands on her; heal her so she can live" (Mark 5:23 NLT).
Now, that's a lot of faith. He thought, "If Jesus can touch her, I know she will be healed." So when Jesus stopped abruptly and wanted to know who touched Him, Jairus didn't criticize Him. Maybe it was because he knew that Jesus always had time for hurting people.
He had no doubt heard the story of how Jesus healed the demon-possessed man, whose life was transformed. He'd probably heard the story of how they lowered the paralyzed man through the opening in the roof, and Jesus touched him and forgave his sin.
So perhaps we could say this was a test for Jairus. If it was, then Jairus certainly passed it with flying colors.
Sometimes God doesn't move as quickly as we want Him to. Yet God says, "My thoughts are nothing like your thoughts. And my ways are far beyond anything you could imagine" (Isaiah 55:8 NLT). His timing is often different than ours. That's why we need to remember that God's delays are not necessarily His denials.
Copyright © 2022 by Harvest Ministries. All rights reserved.
For more relevant and biblical teaching from Pastor Greg Laurie, go to www.harvest.org
and
Listen to Greg Laurie's daily broadcast on OnePlace.com.
Watch Greg Laurie's weekly television broadcast on LightSource.com.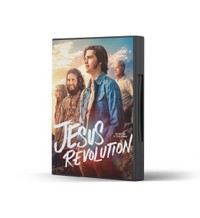 In thanks for your gift, you can receive the Jesus Revolution DVD.
Jesus Revolution has sparked personal revival in the hearts of thousands through its remarkable box office release. It's time to spread the flame of revival even further! Get Jesus Revolution on DVD today!
Receive a copy of the Jesus Revolution DVD when you partner with Harvest this month.