Friday, September 10, 2021
Putting on a Performance
"So why do you keep calling me 'Lord, Lord!' when you don't do what I say?" (Luke 6:46 NLT).
People seem to love to call each other hypocrites. We throw the word around a lot, but I don't think we understand what it really means.
We think a hypocrite is someone who says they believe something, but they do another. However, that isn't hypocrisy; that's humanity.
When Jesus called out the religious leaders as hypocrites, the term had a simple meaning. It meant "an actor," one who's putting on a performance. That's the technical definition of the word. A hypocrite, in the way Christ used the term, is someone who pretends to be something they're not.
Judas Iscariot was a classic hypocrite. He pretended to be a follower of Jesus, but he really wasn't. And then one day he showed his true colors.
Next to the Antichrist himself, this man may have been the most evil person who ever lived. He committed the worst crime imaginable: he betrayed and sold out Jesus. He had a hand in the cold-blooded murder of the very Son of God.
But there's more to Judas than you may realize. Imagine, for a moment, that you could go back to the first century and approach Jesus and His disciples. You wouldn't be able to immediately pick out Judas Iscariot as the evil one.
In fact, you might even think he was the most virtuous of all the disciples. Why? It's because Judas was an impressive actor. He was really convincing. In fact, the only person he didn't convince was Christ himself. Judas put on an amazing performance as a follower of Jesus Christ.
There are people like this in the church today. They talk the talk. They carry their Bibles to church, and they sing the worship songs. They look like one of us. We think they're one of us. But that doesn't necessarily mean they're believers.
Copyright © 2021 by Harvest Ministries. All rights reserved.
For more relevant and biblical teaching from Pastor Greg Laurie, go to www.harvest.org
and
Listen to Greg Laurie's daily broadcast on OnePlace.com.
Watch Greg Laurie's weekly television broadcast on LightSource.com.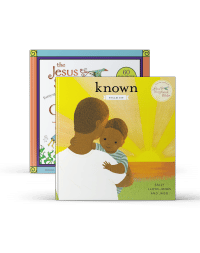 In thanks for your gift, you can receive The Jesus Storybook Bible Coloring Book for Kids and Known.
The Jesus Storybook Bible Coloring Book for Kids and Known by Sally Lloyd-Jones will help children unleash their creativity as they absorb the words that whisper the Lord's name. Activities like coloring will improve your children's pencil grip, help them relax, and develop their imagination.