Wednesday, September 15, 2021
Loved to the End
"The greatest among you must be a servant. But those who exalt themselves will be humbled, and those who humble themselves will be exalted" (Matthew 23:11-12 NLT).
When we think of the Last Supper, we might call to mind the Leonardo da Vinci painting, where Jesus and the disciples are sitting behind a long table. But that isn't the way it really looked. They would have been seated around a low-slung table, perhaps in a semicircular fashion, probably reclining on pillows.
And there in the Upper Room, Jesus did something that shocked everyone. He took a basin of water and began washing the disciples' feet. Customarily, the servant of the house would have done this. But on this occasion, Jesus Himself washed their feet.
I wonder if Jesus thought about the future of each disciple as He worked. Maybe when He came to Andrew and Mark, He thought, "These precious feet will spread the gospel to the whole world."
Then as He washed Judas Iscariot's feet, He might have thought, "These feet soon will steal away into the dark and betray Me."
When Jesus began washing Peter's feet, the fisherman said, "You shall never wash my feet!" (John 13:8 NKJV). There was no mystery to Peter, by the way. He just said what he was thinking at the moment. Some might even say that he lacked a filter.
But Jesus told him, "If I do not wash you, you have no part with Me" (verse 8 NKJV).
So Peter said, "Lord, not my feet only, but also my hands and my head!" (verse 9 NKJV).
Why would Jesus even do this? It's because He demonstrated what He taught: "The greatest among you must be a servant" (Matthew 23:11 NLT). Jesus was showing them what it means to love one another.
Jesus knew that His hour had come to leave this world and return to His Father. He loved His disciples during His earthly ministry—and He loved them to the very end.
Copyright © 2021 by Harvest Ministries. All rights reserved.
For more relevant and biblical teaching from Pastor Greg Laurie, go to www.harvest.org
and
Listen to Greg Laurie's daily broadcast on OnePlace.com.
Watch Greg Laurie's weekly television broadcast on LightSource.com.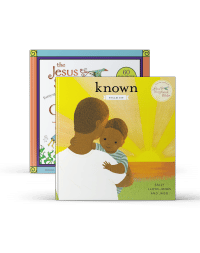 In thanks for your gift, you can receive The Jesus Storybook Bible Coloring Book for Kids and Known.
The Jesus Storybook Bible Coloring Book for Kids and Known by Sally Lloyd-Jones will help children unleash their creativity as they absorb the words that whisper the Lord's name. Activities like coloring will improve your children's pencil grip, help them relax, and develop their imagination.