Just Look Around
Therefore humble yourselves under the mighty hand of God, that He may exalt you in due time. - (1 Peter 5:6)
When God is looking for a man or a woman to use, He often goes out of His way to find someone who will say, "I'm the last person You would want to choose."
The Lord might say to that person, "Actually, you are the first person I wanted to choose because you think you're the last person I would want to choose." People who think they are qualified, people who think they can do it all and know it all, disqualify themselves. Why? Because "God resists the proud, but gives grace to the humble" (James 4:6).
Sometimes people tell me they want to be in ministry, and they want my advice regarding how they can get into the ministry. Ministry is everywhere. Jesus said, "Do you not say, 'There are still four months and then comes the harvest'? Behold, I say to you, lift up your eyes and look at the fields, for they are already white for harvest!" (John 4:35).
I started out in ministry on the streets. I was just someone who heard the gospel and believed it. I went out on the streets of Newport Beach, around the pier, and I walked around. I'd walk up to people I had never met and talk to them about my faith. I looked for any opportunity I could find.
In the Bible we see that the people God called to serve Him usually were busy doing something else. Gideon was grinding wheat. Elisha was plowing a field. Peter and John were mending nets. Matthew was sitting at his tax table.
Ministry is all around us if we will just open our eyes. Work where you are. Do what you can where you are. If you are faithful in the little things, God will open up great opportunities for you.
Copyright © 2016 by Harvest Ministries. All rights reserved.
Unless otherwise indicated, Scripture taken from the New King James Version. Copyright © 1982 by Thomas Nelson, Inc. Used by permission. All rights reserved.
For more relevant and biblical teaching from Pastor Greg Laurie, go to www.harvest.org
and
Listen to Greg Laurie's daily broadcast on OnePlace.com.
Watch Greg Laurie's weekly television broadcast on LightSource.com.
SPECIAL OFFER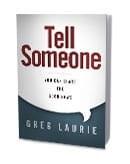 Tell Someone
In Tell Someone, Pastor Greg has outlined truths learned from 40 years of sharing the gospel both publicly and privately, including some of his victories as well as defeats. Pastor Greg's desire is to see this book challenge, motivate, and equip believers to tell others about Jesus.
Tell Someone by Greg Laurie will be sent to you for your donation to Harvest Ministries today.