No Victory without Vigilance - Greg Laurie Daily Devotion - April 27/28

Saturday, April 27, 2019
No Victory without Vigilance
But when Sanballat the Horonite and Tobiah the Ammonite official heard of my arrival, they were very displeased that someone had come to help the people of Israel. (Nehemiah 2:10 NLT)
The people of Jerusalem were discouraged. They were downhearted. They had settled for the status quo. The walls of Jerusalem lay in ruin. But along came Nehemiah, a man on a mission.
Leaders take initiative and risks for the glory of God. They can see where they need to go, and they rally people.
That is exactly what Nehemiah did. He went to the Jewish leaders and said, "You know very well what trouble we are in. Jerusalem lies in ruins, and its gates have been destroyed by fire. Let us rebuild the wall of Jerusalem and end this disgrace!" (Nehemiah 2:17 NLT). He had a vision and a plan, and their hearts were energized.
Yet whenever God's people say, "Let's rise and build," the devil and his people will say, "Let's rise and oppose."
Leaders face opposition. The Bible tells us that "when Sanballat, Tobiah, and Geshem the Arab heard of our plan, they scoffed contemptuously. 'What are you doing? Are you rebelling against the king?' they asked" (Nehemiah 2:19 NLT).
Whenever you do something in the will of God, you will face opposition. Sometimes it's opposition by outright nonbelievers. And sometimes it's criticism from fellow Christians, even. But there will be pushback in some form when you are doing God's will.
The great British preacher Alan Redpath said, "There is no winning without warfare; there is no opportunity without opposition; there is no victory without vigilance."
If you never face opposition as a Christian, if you never get tempted or get tested, that tells me the devil isn't wasting his time on you. But if you get pushback, harassment, and even persecution at times, that would indicate to me that you might be on the right path. You will face opposition when you're doing the will of God.
Copyright © 2018 by Harvest Ministries. All rights reserved.
For more relevant and biblical teaching from Pastor Greg Laurie, go to www.harvest.org
and
Listen to Greg Laurie's daily broadcast on OnePlace.com.
Watch Greg Laurie's weekly television broadcast on LightSource.com.
SPECIAL OFFER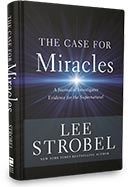 In thanks for your gift, you can receive The Case for Miracles, BOOK
Is God still doing miracles today? Is He intervening? Is He still active in the miracle business? Why is God doing miracles? While doing research for his book, The Case for Miracles, Lee Strobel comes across this definition of a miracle: "A miracle is an event brought about by the power of God that is a temporary exception to the ordinary course of nature for the purpose of showing that God is active in history." 
This book is our thank-you gift to you when you donate to Harvest Ministries this month.