Wednesday, March 13, 2019
So Great a Salvation
How shall we escape if we neglect so great a salvation, which at the first began to be spoken by the Lord, and was confirmed to us by those who heard Him, God also bearing witness both with signs and wonders, with various miracles, and gifts of the Holy Spirit, according to His own will? (Hebrews 2:3–4 NKJV)
About $2 billion worth of lottery prizes go unclaimed each year, according to researchers. (By the way, that isn't an endorsement of the lottery.) God has given us something far greater than a lottery ticket, something worth far more than millions and millions of dollars. It is salvation.
No wonder the Bible calls it "so great a salvation" (Hebrews 2:3 NKJV). God has placed the righteousness of Jesus Christ into our spiritual bank accounts, so to speak. This is true of every Christian. The apostle Paul wrote, "For his sake I have discarded everything else, counting it all as garbage, so that I could gain Christ and become one with him. I no longer count on my own righteousness through obeying the law; rather, I become righteous through faith in Christ. For God's way of making us right with himself depends on faith" (Philippians 3:8–9 NLT).
As Christians, we are positionally righteous before God. The day you believed, He removed your sin. He forgave your sin. He forgot your sin. He removed every trace of your sin, and He put the righteousness of Jesus Christ in its place. That is what it means to be justified.
What we want to do is take hold of, or live out, what God has given to us. Sometimes we don't see the impact of salvation on a believer's lifestyle or on their choices. They may say, "Yes, I love the Lord," but then they do things that seem to contradict that. They may say, "Oh yes, I am saved," but then we wonder whether they really are.
If a person has really met God, there will be evidence in his or her life. If a person has really come into this encounter with Jesus Christ, others will see the results of it.
Copyright © 2018 by Harvest Ministries. All rights reserved.
For more relevant and biblical teaching from Pastor Greg Laurie, go to www.harvest.org
and
Listen to Greg Laurie's daily broadcast on OnePlace.com.
Watch Greg Laurie's weekly television broadcast on LightSource.com.
SPECIAL OFFER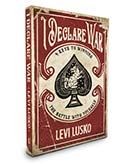 In thanks for your gift, you can receive I Declare War, BOOK
We have a choice to either invite our anxieties and fears into our imagination to wreak havoc or declare war on those thoughts. Pastor Levi Lusko teaches us how to do that with his new book I Declare War. This excellent resource also deals with the internal battles that surround selfishness, depression, wasting time, narcissism, and self-defeat. 
This book is our thank-you gift to you when you donate to Harvest Ministries this month.