Saturday, March 2, 2019
"That's Not Fair!"
This is what the Lord says—the Holy One of Israel and your Creator: "Do you question what I do for my children? Do you give me orders about the work of my hands?" (Isaiah 45:11 NLT)
With five grandkids, I've found that when I buy them gifts, they must be the same. If I get my granddaughters necklaces, they must be identical. If one necklace varies even a little from the others, then somehow in their minds, that is the better necklace. For my one grandson, I need to choose something that is somehow equal to the gift I've chosen for my granddaughters. And if there's any perceived favoritism, they'll say, "Papa, that's not fair!"
We say the same thing to God: That's not fair! Why don't I have that? Why am I single and all my friends are married? Why can't my wife and I conceive children when others have so many? Why is our child a prodigal and theirs is not? Why do I have this horrible illness when all of my friends are so healthy? The list goes on.
We don't know why things happen to us. Some would suggest that we should never ask God why, because it's a lack of faith.
No, it isn't. Ask away. Ask God why. Don't expect an answer, but ask if you like. Even Jesus cried out from the cross, "My God, My God, why have You abandoned Me?" (Matthew 27:46 NLT).
God blessed my wife and me with two sons. One is in Heaven, and one is here serving the Lord. We are very proud of Jonathan, yet we wish that Christopher were with us too. But I don't get to make that decision.
Am I disappointed with God? Absolutely not. I'm not in the explaining business; I'm in the trusting and praying business. I know God is in control. I know His plans for me are better than my plans for myself. And I know that one day, all of my questions will be answered.
Copyright © 2018 by Harvest Ministries. All rights reserved.
For more relevant and biblical teaching from Pastor Greg Laurie, go to www.harvest.org
and
Listen to Greg Laurie's daily broadcast on OnePlace.com.
Watch Greg Laurie's weekly television broadcast on LightSource.com.
SPECIAL OFFER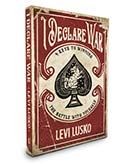 In thanks for your gift, you can receive I Declare War, BOOK
We have a choice to either invite our anxieties and fears into our imagination to wreak havoc or declare war on those thoughts. Pastor Levi Lusko teaches us how to do that with his new book I Declare War. This excellent resource also deals with the internal battles that surround selfishness, depression, wasting time, narcissism, and self-defeat. 
This book is our thank-you gift to you when you donate to Harvest Ministries this month.