The Call to Discipleship - Greg Laurie Daily Devotion - January 6, 2015

The Call to Discipleship
So he departed from there, and found Elisha the son of Shaphat, who was plowing with twelve yoke of oxen before him, and he was with the twelfth. Then Elijah passed by him and threw his mantle on him. - (1 Kings 19:19)
The ministry of the great prophet Elijah was coming to an end. God had directed him to pass his mantle on, which meant the calling that God placed on Elijah's life was about to be placed on Elijah's successor. It would be symbolized by Elijah's pulling off his mantle and giving it to someone else in a symbolic way.
Interestingly, the man to whom Elijah passed his calling had a similar name: Elisha. Elisha didn't have to take up the calling to be the prophet to the nation of Israel. He had a choice in the matter. He could have said, "That's okay. I'm out. This is too much for me." But he didn't. He accepted it.
Elijah was doing what every mature Christian should do. Whether you're a preacher, a missionary or a believer just living your life in this very harsh world, you are called to help others. After you have known the Lord for a while, you need to mentor other people. Older women should mentor younger women. Older men should mentor younger men.
Quite frankly, this a part of the Great Commission. The Great Commission is not merely to preach the gospel. The Great Commission is to go and "make disciples of all the nations, baptizing them in the name of the Father and of the Son and of the Holy Spirit, teaching them to observe all things that [He has] commanded you" (Matthew 28:19–20).
The goal is to tell people about Jesus, try to lead them to the Lord, and then prayerfully take them under your wing and help them get on their feet spiritually.
We all have a part to play. I think somewhere along the line, evangelism has been isolated from discipleship. But you need younger Christians—and younger Christians need you.
Copyright © 2016 by Harvest Ministries. All rights reserved.
Unless otherwise indicated, Scripture taken from the New King James Version. Copyright © 1982 by Thomas Nelson, Inc. Used by permission. All rights reserved.
For more relevant and biblical teaching from Pastor Greg Laurie, go to www.harvest.org
and
Listen to Greg Laurie's daily broadcast on OnePlace.com.
Watch Greg Laurie's weekly television broadcast on LightSource.com.
SPECIAL OFFER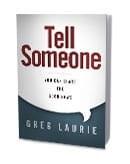 Tell Someone
In Tell Someone, Pastor Greg has outlined truths learned from 40 years of sharing the gospel both publicly and privately, including some of his victories as well as defeats. Pastor Greg's desire is to see this book challenge, motivate, and equip believers to tell others about Jesus.
Tell Someone by Greg Laurie will be sent to you for your donation to Harvest Ministries today.