Wednesday, June 5, 2019
Upside Down Living
"But when they did not find them, they dragged Jason and some brethren to the rulers of the city, crying out, 'These who have turned the world upside down have come here too.'" (Acts 17:6)
It was said of the early church that they turned the world upside down. And that, by the way, was offered as a criticism, not a compliment. When Paul and Silas were in Thessalonica preaching the gospel, it was said of them critically, "These who have turned the world upside down have come here too" (Acts 17:6).
This is the church that changed the world through prayer and through preaching. But it seems today the opposite is happening. We have double standards, moral compromise, and little to no power. We need to get back to what the early church experienced as given on the day of Pentecost.
Some would say we need another Pentecost. However, we don't need another Pentecost any more than we need another Calvary. Let's just appropriate what was made available at the first Pentecost. The power that was given to the first century believers is also available to twenty-first-century believers as we bring the gospel to our generation.
What concerns me is that we are so worried about fitting in, so worried about relating, and so worried about being cool that we have forgotten what it is to make a stand for what is true. And instead of the church turning the world upside down, my fear is that the world is turning the church upside down.
Vance Havner said, "We are not going to move this world by criticism of it nor conformity to it, but by the combustion within it of lives ignited by the Spirit of God."
Believers today need to be involved in upside down living. The early church turned their world upside down (or should I say right side up?). And in this crazy, topsy-turvy world where wrong is right and right is wrong, we need to do the same.
Copyright © 2017 by Harvest Ministries. All rights reserved.
For more relevant and biblical teaching from Pastor Greg Laurie, go to www.harvest.org
and
Listen to Greg Laurie's daily broadcast on OnePlace.com.
Watch Greg Laurie's weekly television broadcast on LightSource.com.
SPECIAL OFFER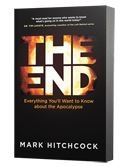 In thanks for your gift, you can receive The End: Everything You'll Want to Know About the Coming Apocalypse, BOOK.
Authored by end-times expert Mark Hitchcock, The End is a comprehensive overview of the last days which brings insight and clarity to the pages of Scripture. The End will be sent to you as a gift of appreciation when you donate to Harvest Ministries today.
This book is our thank-you gift to you when you donate to Harvest Ministries this month.