Monday, November 23, 2020
Worthless in Comparison
"Can we boast, then, that we have done anything to be accepted by God? No, because our acquittal is not based on obeying the law. It is based on faith" (Romans 3:27 nlt).
If anyone could boast of a spiritual pedigree, it would have been Paul the apostle, formerly known as Saul of Tarsus. He was named after Saul, the first king of Israel. He also was a member of the Sanhedrin, which was like a Jewish supreme court that ruled over the people in religious and civic matters.
A very disciplined and religious man, Saul was a Pharisee who tried to keep the law to the best of his ability. He felt he was doing God a service by hunting down, arresting, and, in some cases, executing followers of Jesus.
But then he met Jesus and everything changed. Looking back on his old his life he said, "Yes, everything else is worthless when compared with the infinite value of knowing Christ Jesus my Lord. For his sake I have discarded everything else, counting it all as garbage, so that I could gain Christ" (Philippians 3:8 nlt).
The word Paul used to describe his old life has been translated "trash," "filth," "refuse," or "rubbish." But do you want to know the real word that Paul used? It's a very specific term that translates "excrement," both the animal and human variety.
Paul was saying, "I don't care about any of it. It's worthless. I'm not bragging about it anymore. I'm not looking back on it anymore. It's disgusting. It belongs in the trash."
In the same way, that's where our old life belongs and where our sin belongs. And yes, that's even where our self-righteousness belongs: behind us in the trash.
Jesus said, "The thief does not come except to steal, and to kill, and to destroy. I have come that they may have life, and that they may have it more abundantly" (John 10:10 nlt).
Paul had more joy in what he was gaining than what he was losing. And the same should be true of us.
Copyright © 2020 by Harvest Ministries. All rights reserved.
For more relevant and biblical teaching from Pastor Greg Laurie, go to www.harvest.org
and
Listen to Greg Laurie's daily broadcast on OnePlace.com.
Watch Greg Laurie's weekly television broadcast on LightSource.com.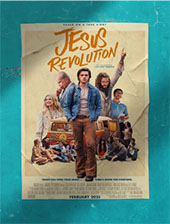 In thanks for your gift, you can receive Jesus Revolution.
Discover how God transformed an unlikely generation . . . and how He can do it again today! This book, soon to be released in the form of a major motion picture, is our gift to you in thanks for your support in the month of January.