Don't Cheat Yourself Out of the Promised Land - iBelieve Truth: A Devotional for Women - April 21
Don't Cheat Yourself Out of the Promised Land
By Victoria Riollano
Search me, God, and know my heart test me and know my anxious thoughts. See if there is any offensive way in me and lead me in the way everlasting. - Psalm 139: 23-24
You missed the exit.
These words are said often in my vehicle. My husband, admittedly so, has a horrible pattern of missing exits. A few years ago, on the way to a concert in DC, this habit would cost us much time. Even with the GPS fully-loaded with precise directions, he missed several exits. With each exit, we would be forced to turn around, go back to an earlier position, or completely redirect. Being in DC traffic, full of one-way streets, meant that our one-hour trip quickly turned into a two-hour trip.
We were simply wandering in cycles, around and around with no clear direction.
As I began to look back on this day, I reflect on how life can is often similar to this trip. Although we made it to our destination, we arrived frustrated and not in the timing that was originally planned. There have been many instances in my own life where I feel like simple mistakes were putting me in a never-ending cycle of "being stuck." Whether my own choices or someone else's, there was a frustration of never quite getting ahead. Perhaps you can relate to the times where you thought you would be getting a raise, only to find out someone else got the promotion for which you had been praying. Have you had times where you were prepping to buy a home, trying to get out of debt, considering launching a new business, only to have an unexpected situation completely change the plan?
We aren't the first or last to experience setbacks or a change of plans.
I am reminded of the children of Israel. From Exodus 3-15, we can recount their story of being rescued from slavery so they could walk into their promised land. The issue, however, is the 11-day journey turns into a 40-year wilderness experience. In fact, many of those who left Israel never saw or entered the promised land. Instead, they wandered the wilderness in a constant cycle of complaining, watching God respond, and worshipping idols. They never quite learned to trust God that He could deliver them to their promised land. What I found interesting was the following verse…
When Pharaoh finally let the people go, God did not lead them along the main road that runs through Philistine territory, even though that was the shortest route to the Promised Land. God said, "If the people are faced with a battle, they might change their minds and return to Egypt." Exodus 13:17
In other words, this detour through the wilderness wasn't due to a "missed exit" through the desert. Instead, the Lord made a choice to delay their promised land arrival. The Israelites were simply not ready to walk into what God has said belonged to them. God knew that if they faced any form of opposition, they would want to run back to the past. Rather than allowing this to happen, God positioned them in an area where they would have to depend solely on Him for nourishment, strength, and encouragement. Their wilderness situation was ordained to get them ready for the promise. Unfortunately, their patterns of behavior kept them stuck for far longer than God intended.
Is it possible we are cheating ourselves out of our promised land?
In other words, could it be that God wants to advance us, but our attitude, thought patterns or actions are standing in the way? Though we all hate to admit it, we are at times our worst enemy. God, in His goodness, decides to withhold from us what we are not quite ready for. Though it may be frustrating at the moment, it really is for our own good while He deals with the matters of our heart.
Search me, God, and know my heart test me and know my anxious thoughts. See if there is any offensive way in me and lead me in the way everlasting. Psalm 139: 23-24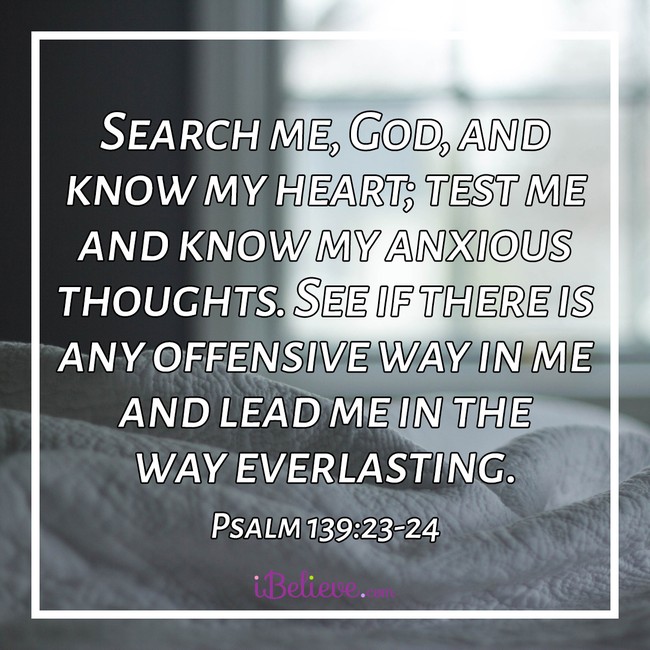 When is the last time we prayed a prayer like this amid our frustration of waiting? During times when it feels like we are in a constant cycle of defeat, do we pray for the Lord to show us our hearts and reveal any ways that are offensive? These hard, yet powerful prayers, followed by intentional change, can be what takes us out of the wandering and into our promise.
Today, if you feel like the passenger on a journey that will never end, ask the Lord for insight. You were never meant to wander indefinitely. Instead, the Lord wants you to walk into what you were created for. When we pray honest prayers and seek the Lord for direction, He will lead us to where He has called us to and the timing will be just right.
---
Victoria Riollano is an author, blogger, and speaker. As a mother of six, military spouse, Psychology professor and minister's wife, Victoria has learned the art of balancing family and accomplishing God's ultimate purpose for her life. Recently, Victoria released her book, The Victory Walk: A 21 Day Devotional on Living A Victorious Life. Her ultimate desire is to empower women to live a life of victory, hope, and love. She believes that with Christ we can live a life that is ALWAYS winning. You can learn more about her ministry at victoryspeaks.org.
For More Great Resources for Women, Visit iBelieve's Faith Channel.
Join licensed therapist Carley Marcouillier on Therapy + Theology each week as she tackles a common question related to therapy, mental health, and faith.

Listen to an episode right now by clicking the play button below!